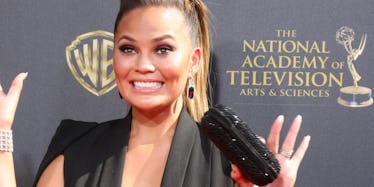 Chrissy Teigen's TMI Tweets To Her Doctor Are Grossing People Out
Shutterstock
An epic friendship is a-brewin' on Twitter, and it's as vomitrocious as it is enviable.
For starters, Chrissy Teigen has a potentially brutal ingrown hair situation.
The Sports Illustrated model tweeted concern over a friend's ingrown drama Friday morning.
She quickly confirmed the true identity of her "friend."
Suddenly, like an angel in latex gloves, Sandra Lee, AKA Dr. Pimple Popper, swooped in to save Chrissy from her own potential puss-plosion.
@chrissyteigen Chrissy, you KNOW I got yo back! I mean...your frieeeeends ingrown hair DM me I'll be in LA next week if you're there! Xo — Dr Pimple Popper (@SandraLeeMD) July 29, 2016
Chrissy accepted Dr. PP's help, though she still expressed some concern over the sheer magnitude of her ingrown.
@SandraLeeMD it's ONNNNNNNNNN but don't judge me — christine teigen (@chrissyteigen) July 29, 2016
Fans following the interaction weren't jealous of Chrissy's follicle issues, but def want in on the alliance that resulted from it.
@SandraLeeMD @chrissyteigen this is the collaboration i didn't know I needed my entire life, I am SHOOK!! — Daniel Cole (@bdanielcole) July 29, 2016
@chrissyteigen @SandraLeeMD THIS IS THE FRIENDSHIP I NEED TO BE APART OF! — Grace Carlson (@gracegcarlson) July 29, 2016
@SandraLeeMD @chrissyteigen @NaniLinda01 @DrPimplePopper omg YES. I Dr Lee aka Super hero Dr Pimple Popper! Annihilate that ingrown hair — Erica Cho (@ericach0) July 29, 2016
@SandraLeeMD @chrissyteigen never thought I'd be jealous of Chrissy Teigen for this reason but wow I am — Jay C (@JulieCarlo1) July 29, 2016
@SandraLeeMD @chrissyteigen when your two fav ppl tweet at each other — Sheiskayla (@Sheiskayla1) July 29, 2016
@SandraLeeMD @chrissyteigen that's amazing! Two of my favourite people — JODIE(elsa) (@JodieGage) July 29, 2016
Get that sucker out and invite us all to the celebratory drinks we KNOW the two of you are having afterward, plz.