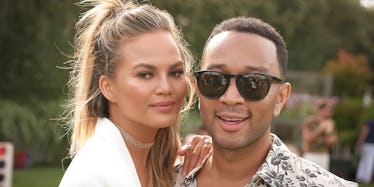 Chrissy Teigen Posed Completely Naked With John Legend And There's A Photo
REX/Shutterstock
It's clear Chrissy Teigen and John Legend define major goals in more ways than one. They're a powerhouse couple, family, and they're also power-housing it up in the career sphere.
To start off, their fashion game is always on point. Here they are looking stylish AF like it's NBD.
Hey, Chrissy, can I please raid your trendy closet?!
Their quality family time constantly warms our hearts via Snapchat and Instagram. Baby Luna is the sweetest little munchkin though… am I right?!
OMG, can you even HANDLE how much cuteness is in this picture?! I'm convinced Baby Luna is an angel, she is just too sweet for words.
Obviously, Chrissy and John's kitchen is where it's AT. Welcome to every hardcore foodie's dream come true. Actually salivating at those cinnamon rolls rn.
And here's Chef Luna at your service, ready to whip up some food like the cute little boss she is.
It's safe to say, this family slays it on social media.
But somehow, some way, they've just taken their Insta game to a whole new level and we don't now how to deal.
Today, Chrissy Teigen took to her account to post an extremely seductive picture. She's posing with her hubby… OH, and she's completely stripped down.
No big deal.
This sexy post wishes @MARISAMXO a happy birthday. The account is private, but it looks like a friend of the couple named Marisa Martins.
In the picture, John looks super chill, casually sitting in a chair while Chrissy is sitting on the back of the chair, totally naked.
Per usual, Chrissy looks like an amazing goddess, and John looks like the total handsome stud he is.
The steamy post has already gained 169,000 likes on Instagram.
But Chrissy swiftly went back into mom mode and posted a cute video of the couple playing with Luna.