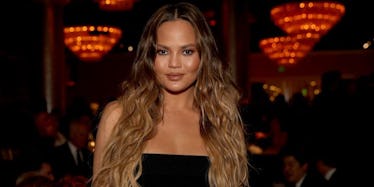 Chrissy Teigen Gives Behind-The-Scenes Look At 'Oscar Week' In Epic Snapchats
REX/Shutterstock
Chrissy Teigen does Oscar week better than anyone else on the planet.
It's been a big year for the 31-year-old supermodel/social media icon/TV host/Twitter guru, and while Chrissy has obviously been killing it on her own, it's been an equally insane year for her hubbie, John Legend.
Because of his role in "La La Land," Chrissy seemingly took a short break from her own projects this week to get ready for what could be a massive Sunday night for the family.
Her behind-the-scenes snaps of her prep-week are the perfect way to get in the mood for the Oscars.
OK, is it just me or does Chrissy automatically make whatever situation she's in a lot more seemingly glamorous?
She was in the back of a truck for two of these snaps, and both times for a second I was like, "Which Hilton Hotel is this in -- oh, nm. That's just Chrissy in the back of an unmarked white van."
Aside from hanging in truck parking lots, part of Chrissy's pre-Oscar week does involve some standard pampering.
Part of her SnapStory was just her sitting by a freezing bathtub with stones on the bottom while talking about having a pedicure, a spa move that I don't understand but appreciate nonetheless. (The freezing water stones thing. I got the nails thing. Nails are weird.)
John Legend's pre-Oscars routine is a little less technical and a lot more family-based than Chrissy's.
On Thursday, the 38-year-old singer posted this cute pic to Instagram of him playing a few bars with Luna.
This isn't John's first Oscar rodeo. You can actually see the Academy Award he won for working on "Glory" (which was featured in "Selma") three shelves up, sandwiched by two of his Grammy awards.
He performed the song during the 2015 Oscars, and it instantly became one of the most powerful award show moments in recent memory.
Good luck this week, Legends!
Citations: 'La La with Luna': John Legend rehearses for the Oscars with baby daughter as Chrissy Teigen goofs around on Snapchat (Daily Mail)