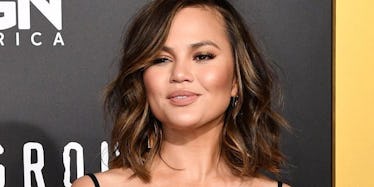 Chrissy Teigen Has The Best Solution For That United Airlines Dress Code Ban
REX/Shutterstock
The two teens banned from a United Airlines flight for wearing leggings officially have Chrissy Teigen in their corner, so, that's a pretty solid silver lining.
On Sunday, two girls were banned from boarding a United Airlines flight when their leggings were deemed inappropriate attire. A third, younger girl was reportedly forced to change into a dress prior to boarding.
Social media ripped into the airline for policing the young women's attire, especially after it was revealed their father was wearing shorts and was allowed to board.
United spokesman Jonathan Guerin claimed the girls were denied access to their seats aboard the flight from Denver to Minneapolis because as "pass travelers" (a system that offers airline employees and their dependents to fly free of charge on standby) their leggings violated the professional dress code required of those "representing" the airline, the New York Times reports.
Academy Award winner Patricia Arquette noted "leggings are business attire for 10 year olds."
Chrissy also lent her thoughts to the issue, insisting she's flown in "just a top as a dress."
United reassured paying customers they would not be banned from boarding should they show up for their flight in leggings, but did little to assuage critics' concerns over how the three girls were treated under the "pass travelers" policy.
Chrissy suggested anyone uncomfortable with the way United does business follow her lead and just stop patronizing the airline.
You have to hand it to Chrissy. She's basically doing the one thing Trump will never be able to successfully do: run the country from the comfort of one's own Twitter.
At this point, Chrissy could tell me to wear nothing but a tinfoil hat and run through the streets of town, shouting warnings of the impending apocalypse, and I'd do it.
That's how convincing she is. That's how much America trusts her.
Citations: Patricia Arquette and Chrissy Teigen Weigh in After United Airlines Bars Girls From Flight Over Leggings (E!)