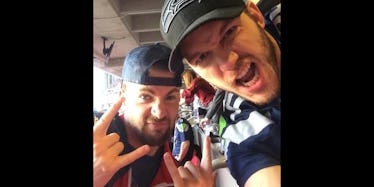 Chris Pratt and Chris Evans Heroically Settled Their Super Bowl Bet
Twitter
If you recall, two of Marvel's biggest stars, Chris Evans and Chris Pratt, had a little wager on last night's Super Bowl.
If the Seahawks won, Evans would have to visit the Seattle Children's Hospital dressed as Captain America. If the Patriots won, Pratt would have to visit a children's hospital in Boston dressed as Star-Lord.
Well, the Patriots did, in fact, win. As such, Pratt is prepared to keep up his end of the bargain. But, since Evans is such a nice guy, he agreed to accompany Pratt on his trip.
If that wasn't enough, both superheroes said they would also visit the Seattle Children's Hospital in costume.
Basically, these guys are real life superheroes and here are the tweets to prove it.
Pratt and Evans at the big game:
Let's go #12s#JurassicWorld trailer #twitterbowl#Psalm126:3 #12sEverywhere#TomBradysBeautifulSkin#LOB#SuperBowlpic.twitter.com/sNMEXsO6Gg — chris pratt (@prattprattpratt) February 1, 2015
Pratt and Evans just warmed the hearts of children in both of these cities:
Congrats to the world champions @patriots you were the better team tonight. I will be visiting @chris_haven as Starlord. #twitterbowl — chris pratt (@prattprattpratt) February 2, 2015
Thank you to @prattprattpratt for being a good sport. I'll be there with you at @chris_haven, and don't worry @seattlechildren, we'll be — Chris Evans (@ChrisEvans) February 2, 2015
coming there too! And lastly, I don't think anyone can ever doubt the mental toughness of Tom Brady. Tough couple weeks, but he showed why — Chris Evans (@ChrisEvans) February 2, 2015
Citations: Chris Evans Wins Super Bowl Bet Will Visit Seattle Anyways (Just Jared)