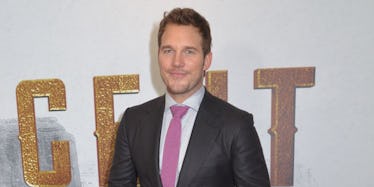 Chris Pratt Is Taking A Break From Acting And We're Trying Not To Cry
REX/Shutterstock
How many people can say they've acted in three major films in the last 14 months?
Not many, but Chris Pratt is one of them.
The hunky 37-year-old worked hard this year filming on location for "Guardians of the Galaxy Vol. 2," "Passengers" and "The Magnificent Seven."
These big movies took him away from wife Anna Faris and their adorable 3-year-old son, Jack.
According to an interview with Parade, the "Jurasic World" star wants to take six months off for some hard-earned family time. He said,
I'm taking Jack to Jack's Beach — which is what we named the little stretch of beach on an island up on the San Juan Islands where we got a place. We're going to go back to the fort we built about a month and a half ago when we went for a short visit and see if that's still there. If not, we're going to build it again.
I can't handle the cuteness.
Yeah, we're a little bummed Pratt won't be pumping out awesome movies for a hot minute, but it's not like his acting career is over. He'll be back.
How could you not want to spend more time with this adorable nugget of a child?
Raise your hand if you want to be adopted into this adorable family. *raises hand*
The beach sounds like the perfect place for a break, Chris.
You can catch "The Magnificent Seven" in theaters on September 23, and "Passengers" comes out on December 21, but we really can't wait for "Guardians of the Galaxy Vol. 2" to come out in May 2017.
Citations: Chris Pratt Says He's Taking Six Months off for Family Time After Making Three Movies Back-to-Back (PEOPLE)