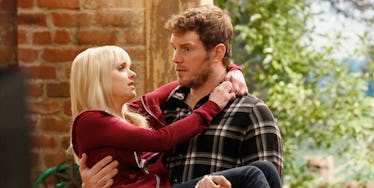 Chris Pratt Is On Anna Faris' TV Show And The First Pics Are Finally Here
CBS
Chris Pratt finally made a guest appearance on Anna Faris' CBS show, meaning people are finally realizing the show exists.
The 40-year-old actress shares the screen with her husband on this week's episode of "Mom," which will air this Thursday at 9 pm on CBS.
According to a report from People, Chris will take on the role of Nick, this week's love interest for Anna's character, Christy.
Christy is looking for a place for her son to take horseback riding lessons, and, as it turns out, she finds one instructor to be particularly suitable for her ~needs~.
Honestly, no shade to "Passengers," but a charming horseback riding instructor is the role Chris Pratt was born to play.
For some reason, this charming horseback rider is off limits to Anna's character (Maybe because he's her son's teacher?), but Anna goes for it anyways. Flirty drama ensues!
It seems like Chris and Anna had a good time filming together. On Monday Chris shared a preview of the upcoming episode on his Instagram.
He wrote in the caption,
Watch me and @annafaris do some of the following things this Thursday on #Mom on CBS: 1) ride horses 2) act 3) kill nazis 4) do jokes 5) do funny faces
I'm 98 percent sure he's kidding about the Nazi thing, but you never know!
Chris also talked up the episode on his Twitter, hinting at a make-out session and acknowledging that his wife is the funnier one.
He wrote,
Acting alongside Anna again (this time on stage with a live audience) was a dream come true!!
Like Chris said, this isn't the first time the couple, who married in 2009, has acted together.
They've also worked together on films like "What's Your Number?" (2011), "Take Me Home Tonight" (2011) and "Movie 43" (2013).
(The difference between those appearances and now is, thanks to "Jurassic World" and "Passengers," Chris Pratt is low-key a huge movie star now. Back in 2011, I might've argued Anna was the bigger star. )
Anyways, who doesn't love it when celebrity couples team up on a project?
Tune into CBS at 9 pm to see Chris and Anna make out on "Moms."
Citations: See Chris Pratt Horse Around with Wife Anna Faris on Mom (People)