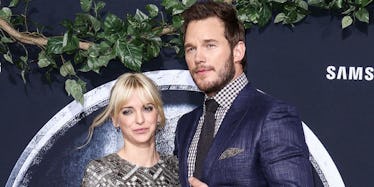 Chris Pratt And Anna Faris' Dog Was Found Homeless And People Are Pissed
REX/Shutterstock
Chris Pratt and Anna Faris may be the most likable Hollywood couple of all time, but not even they can withstand accusations of animal cruelty.
On Monday, TMZ reported a dog allegedly adopted by 39-year-old actress Anna Faris was found in the street, looking worse for wear, and taken to the vet to be treated.
According to the report, the vet scanned the dog's microchip and found the animal was registered to Faris, who adopted him four years ago from a shelter in North Hollywood called Kinder4Rescue.
The owner of the shelter, Laurel Kinder, supposedly told TMZ Faris signed a contract when she adopted the dog, agreeing to pay a $5,000 fine if she ever gave the animal away.
Faris has not responded to calls from the shelter or from the press.
TMZ reports sources "connected" to Faris and Pratt say they are currently out of state but have been told about the dog situation and are making arrangements for the animal to be brought home.
The sources say the couple previously found a "nice family home" for the dog to live in, but it's unclear if that was a permanent relocation or just while they were away.
So, truth be told, it sounds like the dog could have just gotten away from whatever pet-sitters Chris and Anna left him with.
But it's far too late for excuses. If Chris Pratt and Anna Faris really did abandon their dog, or if people even think they did, that's it. They're over.
You guys remember Harambe, right? People care more about animals than racism, sexual assault, abuse — you name it.
(Unrelated: Has anyone looked into seeing if Donald Trump's kicked any dogs in his lifetime?)
I mean, Twitter is already firing up the cremation oven over this dog thing.
I hope they're ready to donate a LOT of money to ASPCA!
Citations: ANNA FARIS $5K FINE AFTER ADOPTED POOCH Found On the Streets (TMZ)