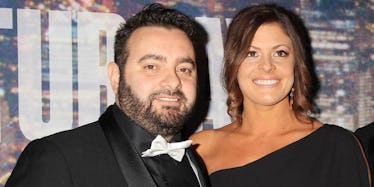 Chris Kirkpatrick From *NSYNC Is Having A Baby And We Have The Name Picked Out
REX/Shutterstock
Former *NSYNC singer Chris Kirkpatrick and his wife, Karly Kirkpatrick, are expecting their first child together, so more like "Baby, HI, HI, HI," am I right?
I said, am I RIGHT? Yeah, I'm right.
Anyways, the couple announced their baby news on Friday, and they inexplicably did so while simultaneously advertising for the upcoming film, "Boss Baby" (in theaters everywhere right now!).
Karly posted a photo of her and Chris in front of a poster for the movie, photoshopped to read "Baby Kirkpatrick" and "Coming October 2017," which presumably when Karly's due date is.
Karly wrote in the caption,
There is a new boss coming to town in early October.......
The advertisement pregnancy announcement route is a little confusing.
Not because I don't believe this is absolutely how Chris Kirkpatrick would announce the upcoming birth of his first child, but because Chris Kirkpatrick has nothing to do with the movie "Boss Baby," as far as I'm aware.
But hey, the man needs diaper money.
Shortly after the announcement, Chris told People just how excited he was to soon become a dad.
The 45-year-old singer said,
Karly and I are over the moon excited that we are welcoming a new addition to the family. We are both looking forward to becoming parents, and learning how much fun having a child will be.
OK, so this tiny Kirkpatrick human is on the way, and the Kirkpatricks are probably going to want a name for their child when the day comes.
They could name the baby Justin or Joey, but that's too much of a kiss-ass move, in my opinion. And Lance and JC are, let's face it, terrible names. So no on all those.
But guys, I've got it. The perfect name for the youngest Kirkpatrick, to honor his father's legacy.
And that name is... CHIP SKYLARK KIRKPATRICK!
Because, let's be real, "My Shiny Teeth and Me" from "The Fairly Oddparents" is Chris Kirkpatrick's best song by far.
Then little Chip Skylark Kirkpatrick could go around saying things like, "Why should I talk to you when I've got 32?"
Chris, Karly: Think about it, and get back to me. I only request 15 percent of the "Boss Baby" profits if you go with my suggestion!