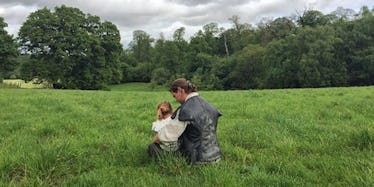 Chris Hemsworth's Daughter Visits Him On Set And It's Too Cute For Words (Photo)
Returning to work after a glorious, summery long weekend is tough, no matter how much you love your job. So chances are, you're seriously struggling right about now. We get it.
To make your morning a little more bearable, here's a picture of Chris Hemsworth spending time with his baby daughter, India.
The photo was taken last week on the set of "The Huntsman" (a "Snow White" spinoff).
The actor's wife (ugh) Elsa Pataky uploaded the adorable snap — father-daughter cuddles included — to Instagram, where it's been receiving a lot of love.
It's easy to see why: Hemsworth is gorgeous enough on his own, but Hemsworth playing dutiful dad is almost too beautiful for any female with eyes and/or a sex drive to handle, myself included.
For your benefit, we've rounded up a few more Hemsworth family photos.
Ladies, take a deep breath, enjoy these beautiful pics for as long as needed and then get to work. If you need to repeat a few times throughout the day, well, we won't judge.
Hemsworth takes a break from filming "The Huntsman" to spend time with his little princess, India.
Other pictures on Pataky's Instagram show just how much the actor loves his baby girl.
He's always happy to take time off from his busy schedule to spend time with family.
Hemsworth and Pataky have two other children, twin boys named Tristan and Sasha.
Look at those chubby legs!
Here's to this beautiful, happy family.
Citations: This Photo Of Chris Hemsworth With His Daughter Is Adorable (BuzzFeed)