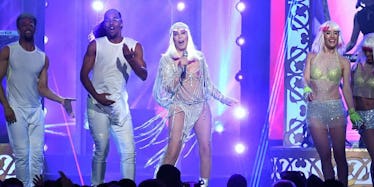 Cher Wore Nipple Pasties At BBMAs And Twitter Was Concerned About Her Right Boob
Getty Images
Do not come for Cher and her nipple pasties.
I SAID, DO NOT COME FOR CHER'S NIPPLE PASTIES.
The music icon turned 71 years old this past weekend and celebrated by performing at the 2017 Billboard Music Awards in sequins, fringe, a head piece, zero-point-zero cellulite, tight abs, and one nipple pasty.
The rock star goddess took to the stage to sing two of her biggest hits, "If I Could Turn Back Time" and "Do You Believe In Life After Love," and the whole time, eyes were on her right breast, which was seemingly bare and without any nipple to be found.
Dun, dun, dun!!!
Cher. Woah.
Twitter was concerned.
Everyone was like, "Does anybody see Cher's nipple?! Stop what you are doing and look for Cher's nipple right now!"
Luckily, some people knew exactly where to turn for answers.
Other people found they could really relate to her nipple...
...And one smart person suggested maybe after 71 years of being the most badass right nipple in all of the land, it took some time off.
Cher also accepted the Icon Award that evening from Gwen Stefani who, though we know she is a fashion icon in her own right, looked like a wee plebeian standing next to Cher's glow.
Not her fault. Just the nature of the world.
In Cher's acceptance speech, she took care to note that not only is she 71 years old, but she can also do a five minute plank..."just saying."
She also said her mother told her,
You're not going to be the smartest, you're not going to be the prettiest, you're not going to be the most talented, but you're going to be special.
Like, rocking-the-2017-Billboard-Music-Awards-stage-with-one-nipple-pasty-and-somehow-being-cooler/wiser/smarter/braver/kinder-than-all-of-us-special?
Yes. Yes, indeed.