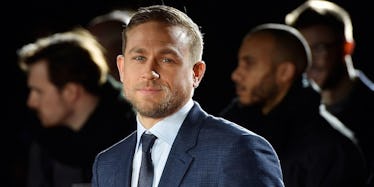 Charlie Hunnam Credits His Hot Body To Having Lots Of Sex And We Can't Handle It
REUTERS
I'll admit it, I'm not exactly what one might consider a gym rat. In fact, I'm more of an occasional weekend warrior when it comes to pumping iron.
If you're picking up what I'm putting down, then you're going to be really happy to learn actor Charlie Hunnam, star of "King Arthur: Legend of the Sword," says the key to maintaining his hot body has nothing to do with bicep curls, bench presses or anything of the like.
The 165-pound superstar is on the cover of the April issue of Men's Health, and in speaking with the magazine, Hunnam revealed how his steady girlfriend, Morgana McNeils, is the key to maintaining his hot body.
The 36-year-old actor didn't mince words when he talked about having lots of sex in order to keep his chiseled physique.
Hunnam said,
I try to do it all. I also try to make love as often as I can. That's an important part of fitness.
Amen, brother! Amen!
Naturally, Charlie Hunnam does credit his hot body to other activities.
Apparently, the actor and outdoor enthusiast enjoys hiking, Brazilian jiu-jitsu, swimming, jumping rope and running.
Speaking on his active lifestyle, the 36-year-old said,
I train a lot every day because I'm fucking crazy. We are supposed to be very active animals. It's our DNA. Sweating is how I change my oil every day. I just feel happier, more positive, energized, and disciplined if I work out.
Good point, Charlie.
In order to play King Arthur, Charlie Hunnam reportedly had to put on 20 pounds of pure muscle, which he definitely did through the aid of sex!
Speaking further on his training for the role, the British actor said,
When you're training every day in a combat discipline, it just gives you that eye of the tiger. Then if someone acts aggressively toward you, I can run all the scenarios through my head -- you know, like I'm going to step to the side and put an elbow through your face.
He continued,
The way I grew up, if you want to talk shit, talk shit to someone's face and be prepared to fight.
I don't know about you, but I would not mess with Charlie Hunnam!
Citations: Charlie Hunnam Says the Secret to Maintaining His Toned Figure Is Sex… and Lots of It! (Entertainment Tonight)