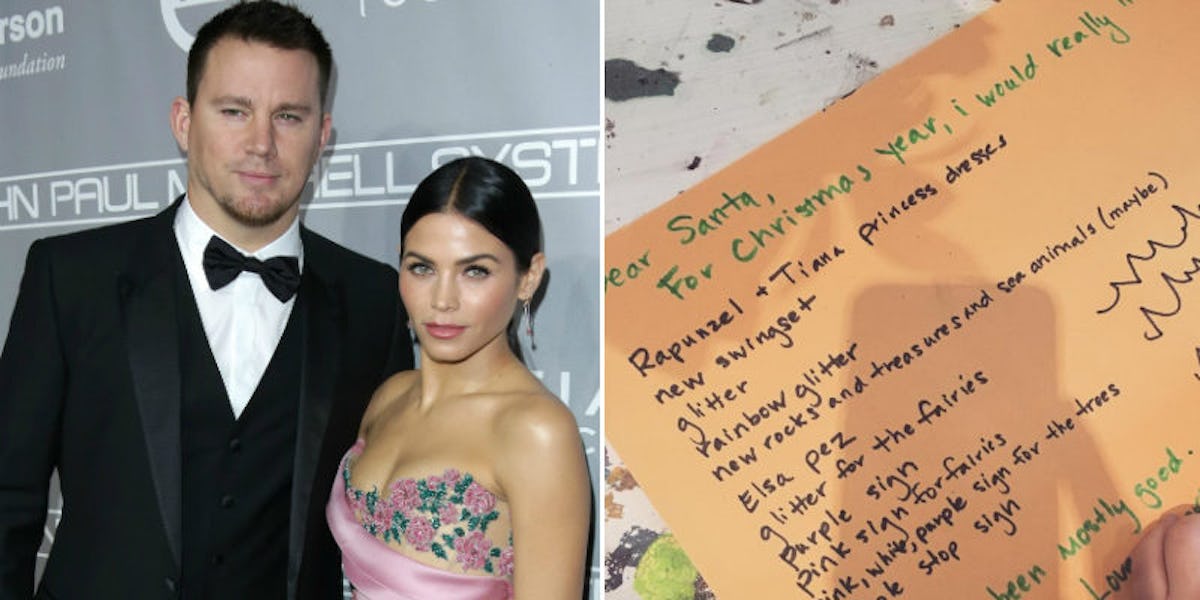 Channing And Jenna Dewan Tatum's Daughter Made The Most Baller List For Santa
REX/Shutterstock/Instagram
Channing Tatum and Jenna Dewan Tatum's daughter Everly gets Christmas.
The 3-year-old has a list of what she wants for Christmas, and I'm definitely going to need to edit my own list, because some of the items on hers would be welcome additions to my household.
Before claiming she's been "mostly good" in 2016 (a year that's been mostly awful), Everly enumerates all the things she wants, including gifts like:
Rapunzel + Tiana princess dresses new swingset glitter rainbow glitter new rocks and treasures and sea animals (maybe) Elsa pez glitter for the fairies purple sign pink sign for fairies pink, white, purple sign for the trees purple stop sign
Wow, that's a whole lot to digest. Let's break it down for you real quick.
Not only is Everly asking for glitter more than once like a boss, she's making sure her magical fairy friends are getting some, too.
Heck, she's even getting them purple signs for Christmas.
Everly is a kind and just ruler of the fairies. All hail Everly, the queen of the sprites.
In addition, I have to say, Everly... An Elsa pez sounds like a great gift idea -- perfect for screaming "Let It Go" and popping some of those sweet candy pills to numb the pain.
And who doesn't want sea animals (maybe)? I can very much respect anyone who wants to turn their place into an aquarium.
Heck, Everly even wants a sign for all the trees out there. She's got to look out for her besties. We all do this holiday season.
On the right side of her Christmas list, there appears to be a bunch of wavy lines that may or may not be Everly's signature.
Even I'd lend my signature to this awesome Christmas list.
Santa, if you're out there, for the love of God, please give this girl some glitter, K?
Citations: Channing and Jenna Dewan Tatum's Daughter Everly Has the Cutest Christmas Wish List Ever (ET)