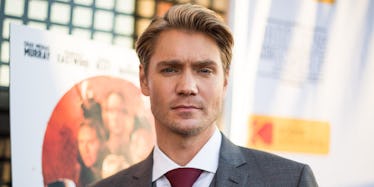 Chad Michael Murray Is Writing A Romance Novel So Prepare To Fall In Love
REX/Shutterstock
The time has come to have an honest chat with our teenage selves wherein we apologize for the fact the man responsible for our sexual awakenings didn't write a romance novel sooner.
Hey, lil' me. I'm sorry. Please stop wearing jeans under skirts.
A Chad Michael Murray romance novel is a high-key better-late-than-never scenario, so let's just appreciate it for existing at all.
A rep for the actor confirmed he is co-writing the book, titled "American Drifter," with Heather Graham (not the actress of Rollergirl fame), and it's due on shelves November 2017.
The 35-year-old, who is currently expecting his second child with wife Sarah Roemer, told Us Weekly,
'American Drifter's' romance was inspired by a dream I had. The dream had played out so vividly, as if I was a fly on the wall watching this tale go down.
Chad Michael Murray wants us all to feel the passion of his dreams, a sentiment I never expected to write, and yet, here we are. He added,
Also, at that time, I had been searching for a story that would resonate with the youth of the world in a way that would make us feel the light and excitement for adventure. 'American Drifter' became a combination of those two journeys merging together with Rio de Janeiro setting the stage for an adventure thriller romance.
Wow. There is no downside to this novel. Either it sets our privates on fire (in the good way), or it's so abysmal we read it on the toilet and laugh until we're ready to face the world again.
If you're concerned about Chad undertaking a career shift successfully, just check out this picture of him dressed as Ernest Hemingway for some reason.
Do you have faith in him yet? I know, me neither. Hemingway would never have worn fingerless gloves. On the other hand, Hemingway wrote pretty unsexy, albeit iconic, books.
Chad is really coming at this from a way different, way hornier angle, and for that we owe him a fair shot.
Citations: Chad Michael Murray has written a romance novel because 2016 can't be stopped (Hello Giggles)