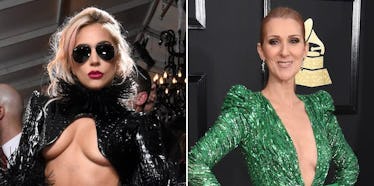 Céline Dion Fangirling Over Lady Gaga At The Grammys Is All Of Us
REX/Shutterstock
Here's something I never knew I needed in my life: Lady Gaga flashing Céline Dion a peace sign.
But even though I didn't ask for it, it still happened on the 2017 Grammy Awards red carpet on Sunday night, and it was amazing.
Lady Gaga approached Céline while she was interviewing with E! and gave her a hug.
Celine said to Gaga,
Congratulations on the Super Bowl, you're amazing. I love you!
Céline's face when she met Gaga was pretty much what I expect my face to be if I ever get to meet either of these pop legends.
Can we talk about how bomb Lady Gaga looked, though?
She rocked a jacket that was all arms and not much else, leather booty shorts, fishnet tights and knee-high boots. And of course, she topped the look off with a pair of aviator sunglasses.
Not going to lie, I'm extremely into this look.
I mean, in terms of warmth this seems like a pretty impractical jacket, but she looks sexy as hell.
And Céline Dion was also slaying her red carpet look, in an elegant sparkly emerald green gown.
I'm very into this look, also.
Céline wasn't nominated herself, but she did present Song of the Year to Adele for "Hello."
As for Gaga, the 30-year-old "Joanne" singer wasn't up for any Grammy nominations either, but she did pull out a stellar performance of "Moth Into Flame" with Metallica singer James Hetfield.
Gaga changed into jean shorts, chains and an old school Metallica t-shirt for the performance, looking cooler than anyone has any right to.
There was a slight microphone malfunction for Hetfield, but the plus side was this meant Gaga and Metallica rocked out on the same mic.
Also, Gaga crowd surfed. Yes, it was exactly as amazing as it sounds.
I don't blame Céline for fangirling one bit. No one could possibly be cooler than Lady Gaga.