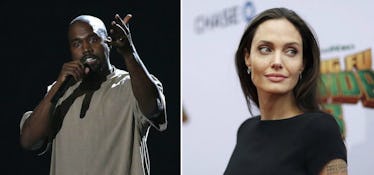 Kanye And 11 Other Celebs Taught College Classes, And You Missed All Of Them
REUTERS
Imagine walking into class and seeing a celebrity you stalk on social media preparing to plant the seeds of knowledge in your brain.
As it turns out, that's actually happened to some college students.
That's right, some celebs have taught actual, real life college classes and you. fucking. missed it. Nice job. Now you'll never know true happiness.
Personally, I would be so incredibly distracted by their presence, the only thing I'd learn in that class would be how to sneakily take pictures of the professor without him or her noticing.
But for real, some celebs on this list have very prestigious academic backgrounds and can offer a lot to students, so maybe this whole celebrity teaching gig isn't a bad idea?
Others, like Kanye West and Angelina Jolie, are college dropouts, but that doesn't mean they don't have a wealth of knowledge to pass along.
Either way, learning from their experiences is invaluable. It'd also be super cool. Not everyone can say they were taught by Kevin Spacey!
Here are 12 celebs you had no idea made guest appearances as professors:
1. Kanye West
In 2014, Kanye taught a class at the Los Angeles Trade Technical College about the fashion industry.
But he only did it because it was part of the community service he had to do after attacking the paparazzi.
2. Matthew McConaughey
He's returning to his alma mater, the University of Texas at Austin, to teach a film class.
His class will take 30 students behind the scenes of one of his recent movies, "Free State of Jones," through a series of recorded lessons and at least one in-person appearance on campus.
3. Tyra Banks
No, the "America's Next Top Model" star is not going to be teaching Stanford MBA students how to "smize."
Instead, she'll be a guest lecturer for a class on how to create and protect a personal brand. Only 25 graduate students get to take this class. Lucky them!
4. Angelina Jolie
The actress/humanitarian will be a guest professor this fall at the London School of Economics, which is an incredibly prestigious institution.
Following her passion for women's rights, she'll help teach a Masters course on women, peace and security. Sounds like the gig of a lifetime to me.
5. James Franco
The "Pineapple Express" star has actually taught at a few schools.
Notably, he taught a film production class at USC, as well as a class at NYU where students turned poetry into film. He also taught a high school film class.
James Franco, you would.
6. Cornel West
This "Matrix" star has a pretty long list of academic achievements.
He has taught classes at Yale, Harvard, Princeton and the University of Paris. He's also written 20 books.
Damn, Cornel.
7. Spike Lee
Lee currently teaches film classes to graduate students at New York University. He's been a member of NYU's faculty since 1993.
Prior to that, he taught filmmaking at Harvard. I could imagine these classes at NYU would be pretty intense.
8. Oprah Winfrey
Back in 1999, Oprah Winfrey co-taught a class at Northwestern University with Stedman Graham (her long-time beau) and a whole lot of security guards.
The course was called "Dynamics of Leadership", and it sounds like the ultimate #RelationshipGoals, to be honest.
9. Kevin Spacey
The "House of Cards" actor shared his acting chops as a guest theater professor at Oxford University in 2008. I'm seriously jealous of those students.
10. Alec Baldwin
This "30 Rock" actor dropped in at Southhampton University to teach an acting class back in 2002.
Confession: I would probably be super distracted by his famous, sexy voice if I was in this class.
11. Questlove
The Roots drummer hit up NYU to co-teach a "Classic Albums" course, where he dove deep into albums like Michael Jackson's Off The Wall, Beastie Boys' Paul's Boutique and Led Zeppelin's IV with students.
I could just imagine him nerding out over music and completely losing track of time.
12. John Cleese
The "Monty Python" comedy legend was a Professor-at-Large at Cornell University, teaching students about comedy, film and writing.
Even though that's no longer his role, he still makes appearances on Cornell's campus to this day. Cleese, himself, studied at Cambridge University in the 1960s.
I imagine James Franco to be a hot mess of a teacher. Like, a hot mess.
And I'd bet money that Angelina Jolie made you dig deep into the depths of your soul you didn't even know existed.
All I can say is, these students were lucky AF to be taught by these celebrities.