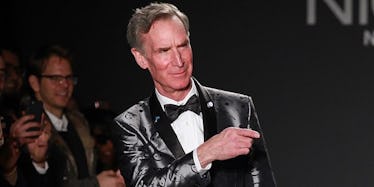 7 Photos Of Celebs Who Marched For Science On Earth Day
REX/Shutterstock
In honor of Earth Day, thousands of people all across the country and world participated in the March for Science. The main event took place in D.C. and none other than Bill Nye served as honorary co-chair because, really, who better to lead the march than everyone's favorite science guy?
Nye wasn't the only familiar face spotted at one of the 600 marches across the globe — celebrities participated in the March for Science and shared photos on social media.
1. Mark Ruffalo
Ruffalo is one of the most politically active celebrities out there, so it's no surprise that he participated in the March for Science and encouraged his fans to do the same. Major bonus points for this hilarious "Mean Girls" meme.
2. Rachel Bloom
The Crazy Ex-Girlfriend co-creator/star headed to Silicon Valley to speak out on behalf of science. A fan posted this awesome video of Bloom leading a chant that declared, "science is too nuanced for a simple chant!" Preach.
3. Kenneth Cole
The fashion designer went big when it came to signage with this perfect billboard.
4. Peter Capaldi
The Doctor Who star marched in London — one of the many major cities across the world that held a March for Science to coincide with the D.C. event.
5. Bill Nye
Bill Nye addressed marchers at the main event in Washington, D.C. If you didn't get to see him speak in D.C., don't be too sad — he's set out to save the world through science with his new Netflix series, Bill Nye Saves the World.
6. Kathy Griffin
Not only did she participate in the Los Angeles March for Science, but Griffin casually defused a fight on the subway. What a rockstar.
7. Nik Dodani
The L.A.-based actor, comedian, and activist won the award for "best use of a gif."
Citations: March for Science: Protesters gather worldwide to support 'evidence' (CNN), Bill Nye and His Fellow Celebrities Unite to Save the World (and March for Science) on Earth Day (Vulture)