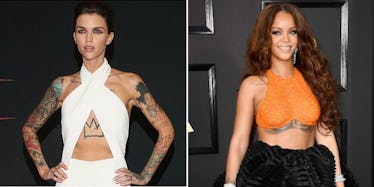 10 Celebrity Tattoos To Inspire Your Next Piece Of Ink
Victor Chavez for Paramount Pictures/Frazer Harrison/Getty Images
Suns out, tats out! That's the saying right?
Something about the seasons changing always inspires me to switch up my look in a drastic way, and rather than shaving my head or getting something pierced, this time, I'm in the mood for some ink.
When looking for inspiration, stars and celebrities are a great resources since, you know, they're not messing around with amateur artists AND they can inspire you with ideas you wouldn't otherwise consider unless you saw it on the red carpet.
I spent the morning scouring the internet for some of my favs, and gathered these 10 celebrity tattoos to get you started.
1. Rihanna's Neck Stars
Sure, Rihanna has since inked up with some badass wings under her chest and literally a handful of tats, but the neck stars are our first Bad Girl favorite. This look is great if you're looking for something that makes a statement and is still delicate.
2. Ruby Rose's Sleeve
Who isn't just so, so, so into Ruby Rose? Take some serious inspiration from her detailed and colorful sleeve, and some tips on how to intertwine images to create a larger effect.
Lea said the adorable cup is in honor of her grandmother.
Little images like this are great ways to hold something symbolic close to your heart, without taking up precious skin real estate.
Miley has, IDK, a million tattoos, but one of my favorites is her incredibly detailed life-like sketch of a vegemite jar. It is speculated to be homage to her fiancé, Liam, who adores the Australian food.
Choosing words over an image is more important to some people, and if you have something that speaks to you like Demi's "Let God" message on her foot, consider what kind of font and size you would like the phrase to be before going for it.
5. Paris and Prince Jackson's Sibling Yin and Yang
Tattoos are also an awesome way to unite two people, as siblings Paris and Prince Jackson have done here with their yin and yang ankle tattoos. Opt for a matching picture or two images that compliment one another.
6. Simone Biles' Olympic Rings
Sure, if you aren't an Olympic athlete maybe the Olympic rings don't make the MOST sense, but you can use Simone's tat as inspiration for a meaningful experience in your own life.
She captioned this photo on Instagram, "every accomplishment starts with the decision to try."
Lena is the first to say this image is reminiscent of Rihanna's goddess chest tattoo, but loves her "tit chandelier" just the same. In her Instagram post, she wrote,
Thank you @trinegrimm for my warrior's chest plate/tit chandelier. This is my first original piece by a female tattoo artist and it felt sacred and cool and she didn't chide me for copying @badgalriri's placement. If you're ever in Oslo, go meet this metal queen and let her handle your body
It is rumored Bella's tiny wings are in honor of gaining her Victoria Secret angel wings, and are the perfect size for the model, who otherwise needs to remain a "blank canvas" for her work.
If I've said it once, I've said it a hundred times... the FUTURE. IS. FEMALE. In fact, let's all agree to go get this tiny tat right now and scare the sh*t out of the patriarchy.
Just remember the three D's of getting inked before you go: don't be drunk, don't be stupid, do be-yoncé.