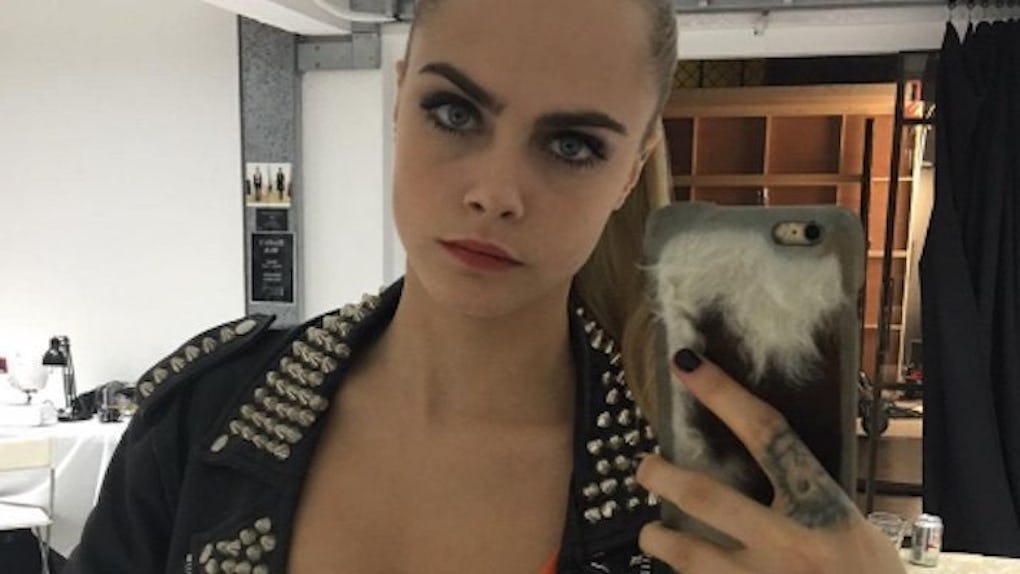 Instagram/ Cara Delevingne
Cara Delevingne Went Pantless On Her Latest Magazine Cover For A Good Cause
When most of us go pantless, it's usually because we walked in our own front doors .01 seconds ago and are beyond ready to live like we're dying re: leg, butt and crotch comfort.
When Cara Delevingne goes pantless, it's to raise awareness for female cancers.
Don't you feel like a sloppy, bottomless narcissist? I know I do.
Cara posed sans-bottoms for the Sunday Times Style's August issue, using a sunflower as censorship and rocking a Lady Garden sweatshirt.
Lady Garden is a campaign run by a group of British women aiming to "change the future of female cancers." The campaign is supported by Topshop and works in conjunction with the Gynaecological Cancer Fund.
The women of LG encourage fellow ladies to speak openly about their bodies and address gynecological concerns with health professionals free of embarrassment, in the hopes of avoiding late-stage cancer battles.
The "Suicide Squad" actress captioned her photo,
I am so happy with this cover & thrilled to be helping raise awareness for a cause that is so important.
Ladies (and dudes) looking to support the cause or even just cop a sweatshirt like Cara's can join the movement here.