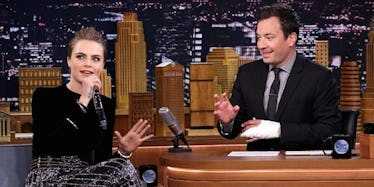 Cara Delevingne Kills It On 'Tonight Show' With Crazy Beatboxing Skills (Video)
Cara Delevingne is a woman of many talents. She models, she acts and apparently, she beatboxes.
Cara went on "The Tonight Show Starring Jimmy Fallon" and showed off her impressive beatboxing skills.
She grabbed the mic and broke it down with a crazy, sick beat while a member of The Roots rapped over it.
It's just another reason to feel inadequate in the presence of Cara Delevingne.
To hear her mad dope beats, check out the video above. You won't be disappointed.