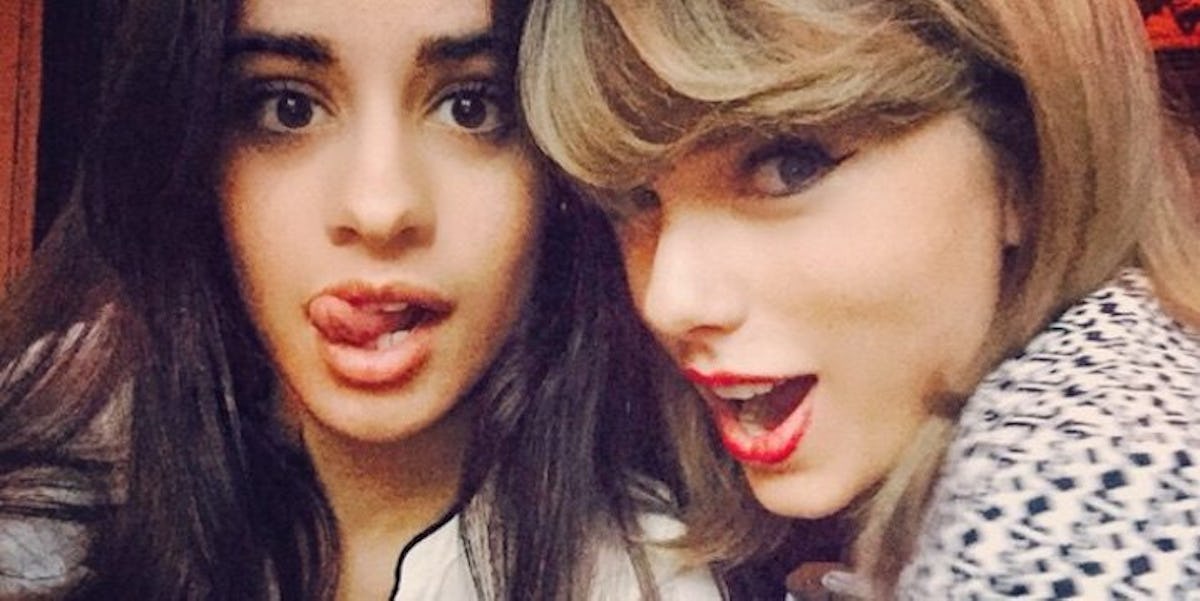 Camila Cabello Goes To Taylor Swift For Dating Advice For Some Strange Reason
Instagram
In some way, we all get our dating advice from Taylor Swift, albeit not directly. Only Victoria's Secret models, Ed Sheeran and ex-Fifth Harmony front-woman Camila Cabello are graced with that particular privilege.
The 19-year-old told the Sun,
[Taylor and I] talk about love a lot… And if I ever have any questions about love or if there's anything that I'm going through at the time, whether it's with a boy or with a friend, she's a very good person to ask those kind of questions… She's very knowledgeable about that stuff.
This is reassuring news, considering how many people consider Taylor Swift their personal breakup anthem composer and their mood-setter for fresh romance.
Camila and Taylor prooooooobably aren't having overwrought, introspective boy talks these days, though.
Tay is experiencing a rare (and hopefully empowering) single stretch, while Camila focuses on striking out in the music industry without the support of her four fellow harmonies.
Ally Brooke, Normani Kordei, Dinah Jane and Lauren Jauregui announced via Instagram in December their tiniest member would be moving on as a solo artist, as the rest of them continued Fifth Harmony as a foursome.
The note read,
After 4 and a half years of being together, we have been informed via her representatives that Camila has decided to leave Fifth Harmony. We wish her well… We are excited to announce that we will be moving forward with the four of us… for our fans. We are four strong, committed women who will continue with Fifth Harmony as well as our solo endeavors.
Woah. SALTY.
Camila shared her own lengthy statement to fans via Twitter, debunking the rest of the ladies' claims she tossed them aside like day-old clam chowder.
She wrote,
I was shocked to read the statement the Fifth Harmony account posted without my knowing. The girls were aware of my feelings through the long, much needed conversations about the future that we had [during] the tour. Saying that they were just informed through my representatives that I was 'leaving the group' is just not true.
Taylor Swift is also a great friend to turn to for advice on how to throw shade until your arms fall off, so hit her up, Cam.
Citations: Camila Cabello Gets Her Dating Advice From Taylor Swift (E!)