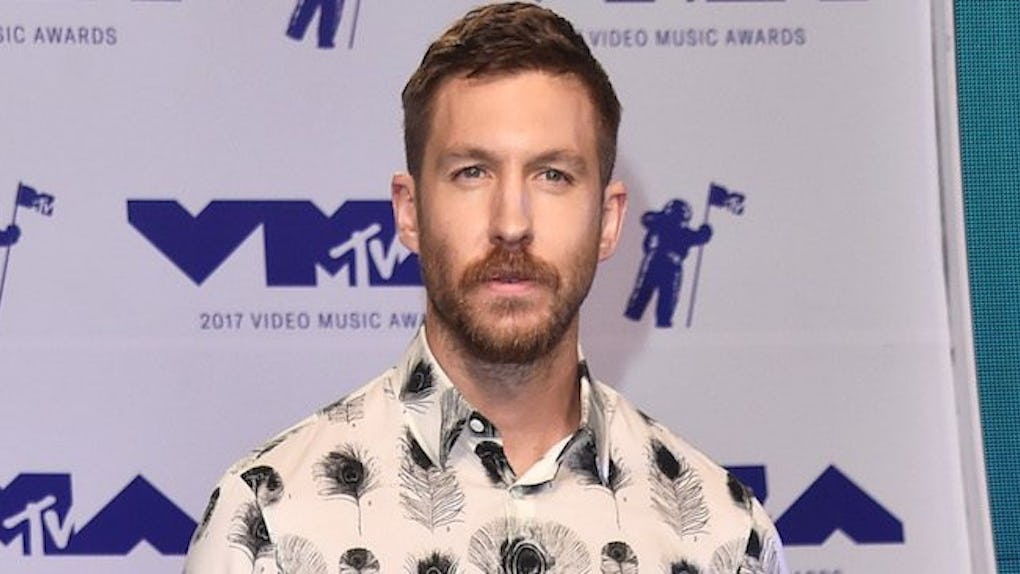 Alberto E. Rodriguez/Getty Images
Calvin Harris Arrived At The 2017 VMAs And People Are Roasting His Outfit
Happy VMAs night, everyone! I hope you're ready for a night that will no doubt contain lots of drama. Celebrities have been arriving on the VMAs red carpet, and Calvin Harris at the 2017 VMAs has Twitter roasting him for his outfit. The artist is nominated for his songs "Feels" and "My Way" tonight under Best Collaboration and Best Dance, but it looks like he won't be winning best dressed. Harris isn't the only of Taylor Swift's exes to show up to the VMAs showing off some facial hair. Nope, Joe Jonas is also sporting some facial hair and people are here for it.
People can't help but make fun of Calvin Harris' VMAs outfit, though, saying he looks like Nigel Thornberry from The Wild Thornberrys... or a detective from Brooklyn. And honestly, it's the greatest thing I've seen all night. Harris seems to have skipped the black (red) carpet and instead went straight into the venue where he then posed for the photos people are now roasting him for. Taylor Swift also skipped the red carpet completely before debuting the "Look What You Made Me Do" music video, which was as petty as we all thought it'd be.
Some fans are comparing him to Tom Hardy with his facial hair, and some are saying he looks like an uncle at Thanksgiving.
Personally, I think he looks pretty normal. Compared to other VMA looks throughout the years, this one is definitely tame. Calvin just wants to have a good, comfy time, guys!! And his outfit is nicer than literally anything I've worn in my entire life, so I'm gonna just let Calvin live.
Harris lost Best Collaboration to Taylor Swift and Zayn Malik, but like, it's fine. I'm not sad or anything. Other highlights of the night have included P!nk's Video Vanguard performance and speech, Kendrick Lamar's killer opening, Katy Perry's hosting, and of course, the adorable Asahd Khaled's appearance.