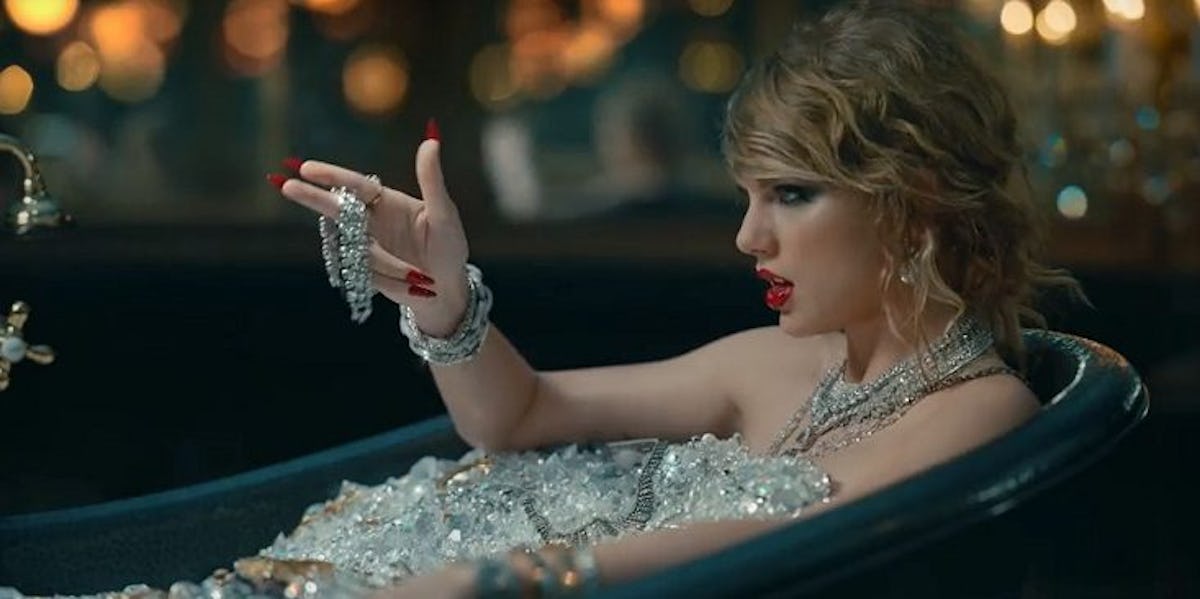 BTS Footage Of Taylor Swift Fighting Her Old Selves In "LWYMMD" Is So Awkward
TaylorSwiftVEVO/YouTube
Oh, my goodness. Taylor Swift fans, I hate to say this to you... but, the behind the scenes footage of the "Look What You Made Me Do" video is extremely, EXTREMELY cringeworthy. I mean, I totally get it. Most BTS footage is a little embarrassing, but this is something else entirely. "LWYMMD" is the video that just keeps on keeping on. It's given us a whole new Taylor (remember, the old one is dead), a plethora of Halloween costume ideas, and now we have this bizarre footage to keep us entertained. I thought the pile of old Taylors fighting each other was enough, but now this? I don't know whether to laugh nervously or cry. Who knew we would still be talking about this video? I certainly did not, but I sort of love it. There are just so many secret messages and so many freakin' Taylors!
On Sept. 20, 2017, Swift released a behind the scenes video to her Instagram story, and the world sort of exploded. Look what you made us do, Taylor! In an exclusive interview and BTS shoot with People Magazine, Taylor Swift talked on set with the extras who played her former selves. Swift said,
OK, this is the trippiest thing I've ever seen in my life. Seeing all of them together is the weirdest feeling, but it's awesome. It's like, 'Oh, that's the phase I went through when I was 16 but a girl is wearing it who looks just like me.'
Whoa. That must've been trippy. I would never want to meet any of my former selves. I don't even like looking at old tagged Facebook photos of myself from high school. That ship has definitely sailed.
The behind the scenes video also shows Swifty trying her hardest to appear graceful in one scene. At one point, the director, Joseph Kahn, said, "Even though this is a goofy outfit, I want you to still be graceful in it." Swift responded sarcastically, saying,
I will. I mean, I have to actively try to not be graceful. I don't know if you've ever met me before.
She continues to joke about her gracefulness by describing her many moves. She teased,
Some of my falling techniques are called 'kitten strangle fight' and then 'sea anemone.' That's the most popular one. That's the one the kids like the most. Sea anemone… tentacles.
Swift was filled to the brim with goofy one-liners and physical humor, even during the dramatic fight scene with her former selves. We'd love to be friends with Swift IRL.
Comical and classy. It's a pleasant surprise, considering the music video is very intense and serious. You never know what kind of Swifty you're going to get, people! Obviously, she's doing something right because the music video earned her more than 416 million views on YouTube, and she has a new album coming out on Nov. 10, 2017.
The world has been abuzz with Taylor Swift news ever since she mysteriously deleted her social media and started posting videos and imagery of snakes on Instagram and Twitter. Then, seemingly out of nowhere, we got the news that Swift would drop her new albu, Reputation, on Nov. 10 and her first single "Look What You Made Me Do" that week. Ever since, it's been a Taylor Swift party. Swift even dropped this video for "Look What You Made Me Do" at the 2017 VMAs and it was legendary, to say the least.
What's next for Taylor? What will people say? What will she do? We'll just have to wait and see. You're keeping us on our toes, Swifty, and we like it.