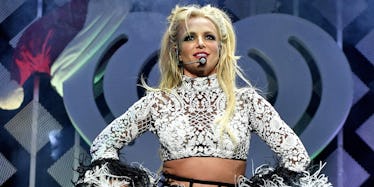 Britney Spears Is Reportedly In Talks To Perform At The Super Bowl Next Year
Mike Windle/Getty Images
We're still pretty far off from Super Bowl LII, but Britney Spears is already working on locking in her spot as the halftime show headliner. Apparently, Spears' team is in talks with the TV execs that decide on the performer.
In a new report from the New York Daily News, a source close to the situation claims Spears' people are having secret discussions with the broadcast and ad execs that are putting on next year's Super Bowl.
According to the insider, Spears has made it clear that she would jump at the chance to headline the Super Bowl:
Britney has made it clear to her team that it is a dream to perform at a Super Bowl. She has the hits, package, and appeal to be a headliner.
If Spears were to land the coveted spot, it would be her second time performing a Super Bowl halftime show. She first graced the stage back in 2001 when she performed "Walk This Way" with Aerosmith, NSYNC, Mary J. Blige, and Nelly.
At that show, Britney Spears didn't get to perform any of her hits, so of course, she would want to hit the stage again to sing her own songs. Last year, she told BBC Radio 1 she would totally be down to do the Super Bowl if she was asked.
Spears has just concluded her Las Vegas residency and put out her ninth studio album Glory at the end of 2016. She clearly has the catalog of hits to fill out a 12-minute halftime show slot, and recently clapped back at haters accusing her of not being able to sing live.
Choosing Britney Spears as the halftime performer would also continue the NFL's recent string of booking major female pop stars as the Super Bowl headliners. This year was Lady Gaga, before her was Beyoncé (technically Coldplay was the headliner, but like... obviously not), and before Bey, Katy Perry rocked the stage.
Of course, nothing is locked down yet. Super Bowl LII won't take place until early February of 2018, so we'll have to wait and see if Brit's bid for the show plays out.