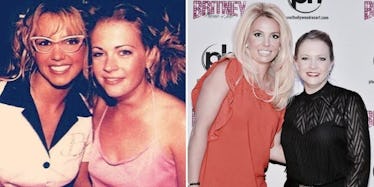 Britney Spears And Melissa Joan Hart Reunite 16 Years After 'Crazy' Video
You may remember back in the 90s, Melissa Joan Hart starred in a film with a young Vinnie Chase called "Drive Me Crazy."
You may also remember Britney Spears sang a song called "(You Drive Me) Crazy" and the music video featured both Britney and Melissa Joan Hart.
Britney also had a guest spot on an episode of "Sabrina, the Teenage Witch," which Hart starred in.
Well, now, these two 90s icons reunited after 16 long years. MJH attended one of Britney's performances in Las Vegas.
Apparently, the pair hung out after the show and even went as far as to tweet one another later on. Aren't celebrity reunions adorable?
The two stars share the limelight:
We are so thrilled that @MelissaJoanHart could be here tonight! Here she is with @BritneySpears. #PieceOfMe pic.twitter.com/tozVXfWMXE — Planet Hollywood (@phvegas) February 19, 2015
Hart with her friends at the show:
Spears and Hart's lovely exchange on Twitter:
@MelissaJoanHart It was so good to see you!! It's been TOO long. Hope you had fun tonight! Xoxox — Britney Spears (@britneyspears) February 19, 2015
Awesome show! Such fun to see you girl! RT @britneyspears:It was so good to see you!! It's been TOO long. Hope you had fun tonight! Xoxox — Melissa Joan Hart (@MelissaJoanHart) February 19, 2015
Citations: Britney Spears reunites with old pal Melissa Joan Hart (Daily Mail)