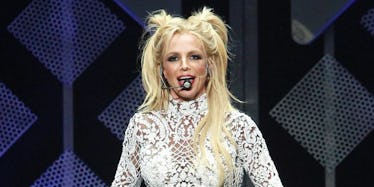 Britney Spears Delayed An Israeli Election Because It Clashed With Her Concert
REX/Shutterstock
It's contentious Middle Eastern politics, bitch!
We already knew Britney Spears is a powerful pop culture icon, but apparently she's also a force in the political world. A major election in Israel is being pushed back so as not to conflict with Britney's upcoming concert in Tel Aviv.
The Israeli Labor Party has just announced that it will be postponing its primary election over concerns that Britney's concert would create obstacles for people trying to attend polling stations, according to Jerusalem Online. The election committee did not mention Spears by name, but references a "major event" at the venue Spears will perform at occurring on July 3 that would complicate the election previously scheduled on that day.
Now the election will take place a day later, on July 4, so that they won't have to worry about increased traffic or any lack of security due to a competing high-profile event.
And it's not just some tiny little election they're moving for Brit — the Israeli Labor Party primary election will decide on who the new leaders of their party will be, and it's being reported as a really contentious and bitter race. It sounds like the people of Israel could use a bit of fun before this election in July. Thanks for thinking of them, Britney!
The Tel Aviv concert is Britney's only upcoming foreign performance date. Aside from that, she will continue performing multiple dates in Las Vegas as a part of her concert residency there.
Now that we know the impressive amount of political power Britney Spears wields, I can't to see how she uses it next. Maybe she'll delay primary US elections by dropping a new music video, or casually overthrow the entire geopolitical system of the world by dying her hair black. I can see that happening, you guys!!
Personally I'm all for a world run by Britney Spears. Remember when she listed her presidential plans as taking over Cabo on "David Letterman" back in the day?
I'm here for that!
Citations: Israeli Labor Party moves election date due to Britney Spears concert (Jerusalem Online)