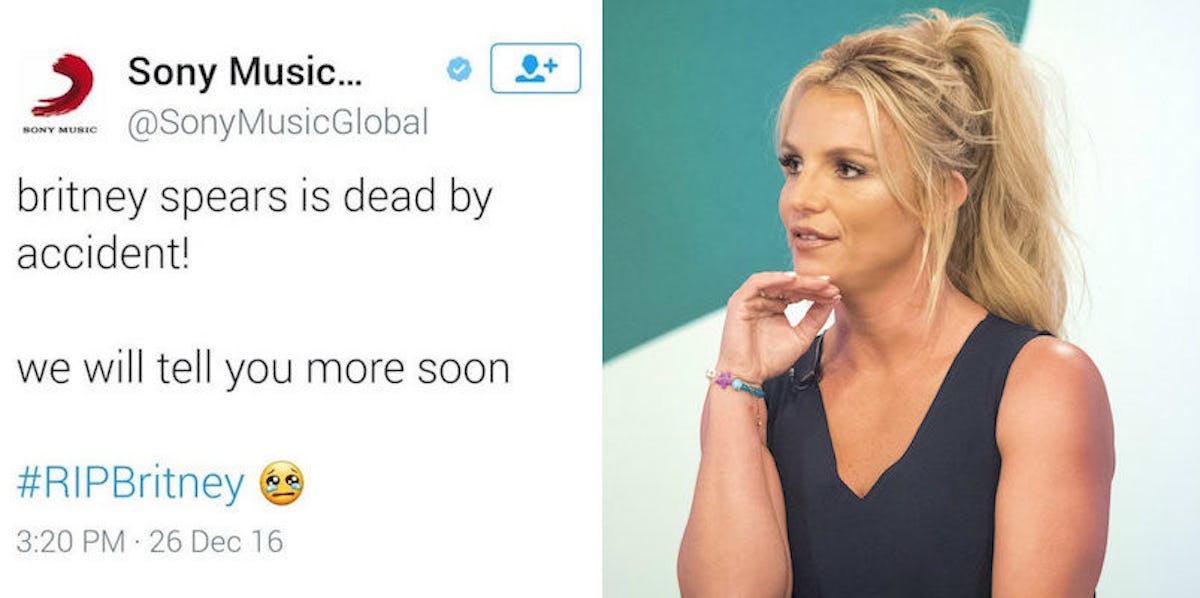 Everyone Thought Britney Spears Was Dead Because Of A Savage Twitter Hack
Twitter/REX/Shutterstock
EVERYONE CALM DOWN. Britney Spears is still alive.
This holiday weekend, while you were probably baking gingerbread cookies and opening presents with Grandma, the internet was trying to murder Britney Spears.
Yes, it was just as dramatic as it sounds. Take a seat and let me explain.
On Monday afternoon, Sony Music's Twitter account (aka A VERIFIED, LEGIT PROFILE) tweeted a message claiming Britney Spears was "dead by accident." They added the hashtag "#RIPBritney" and shit hit the fan.
Like, people freaked the F out. Children were crying. The world was ending.
WTF, SONY? YOU DO NOT JOKE ABOUT THE QUEEN. YOU DO NOT PUT "DEAD" AND "BRITNEY" IN THE SAME SENTENCE.
Fans freaked out and started using the #RIPBritney hashtag to share their concern.
Others refused to believe the news. BRITNEY SPEARS? DEAD? No way.
Shortly after, Britney Spears' rep, Adam Leber, told CNN our goddess is "fine and well." Thank god.
Her fans were obviously overjoyed to find out she was still alive. Praise be the lord!
The girl literally came back to life faster than Jesus. Britney's a legend.
Fans also wondered what it would be like for Britney Spears to see she was trending on Twitter... for being dead.
Sony Music released a statement saying its Twitter account was "compromised" but "has been rectified." UHH, YEAH. YOU BETTER WATCH YO' SELF, SONY. I GOT MY EYES ON YOU, PUNK.
Britney Spears has not yet commented on her death, but she did tweet this:
God bless.
The world would be nothing without Britney Spears, so even joking about her death is too much for my heart to handle.
What would we do without "Oops!...I Did It Again?"
Where would we be without "Baby One More Time?"
Never leave us, Britney! If you can survive 2007, you can survive anything.
Seriously... That year was a rough one.
Citations: Twitter Hack Claims Britney Spears Is Dead (CNBC)