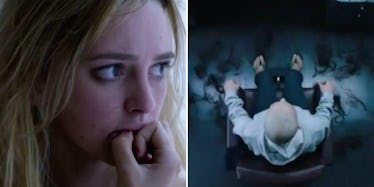 The Trailer For Britney Spears' Biopic Dropped And It Will Give You Serious Chills
Twitter
We can joke all we want about how if "Britney Spears can survive 2007, we can make it through today," but our girl Brit -- oh baby, baby -- went through some serious issues.
Lifetime has finally released the long-awaited first trailer for the unauthorized Britney Spears biopic.
Spears' rep said Britney will not be contributing to the project "in any way, shape or form… nor does it have her blessing."
Hence, its "unauthorized" status...
British actress Natasha Bassett of "Hail, Caesar!" will don a Southern accent to portray the pop singer in "Britney Ever After."
The movie, which premieres on February 18, will follow Spears' struggle with fame as well as her infamous relationships.
Over scenes of Spears shaving her head and her wedding to Kevin Federline, Basset says,
I'm not going to say I was fun, because I wasn't. Everything's just kind of this blur, you know? Until you hit rock bottom.
The biopic promises to cover "the tumultuous story of pop icon Britney Spears' rise to fame, fall from grace and eventual triumphant resurrection, firmly securing her position as one of the world's greatest entertainers."
You can also expect to see this Costco Kirkland knockoff of *NSYNC.
It's not as good as the name brand, but certainly... cheaper.
The 23-year-old Bassett told New York Daily News what it was like trying to become Spears.
She was a fan of Britney, having grown up listening to her pop hits, but she had no idea what the singer went through in her personal life.
Bassett said,
It was traumatic having to experience through my eyes what she experienced. I mean, she's not like anybody else. Her entire life, she's been chased by paparazzi and she's constantly being scrutinized and in the public eye, so it's not normal. I really appreciated how strong she is. Emotionally, the way she got through the constant pressures that she was faced with is admirable.
Hopefully, Bassett's empathetic portrayal will do Spears' story justice.
Citations: The trailer for Lifetime's Britney Spears movie will just make you sad (Mashable)