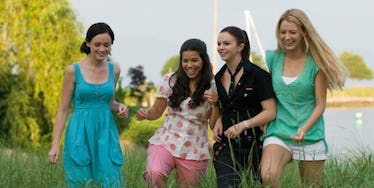 Blake Lively Made 'Traveling Pants' Costars Her Daughter's Godmothers
Alcon Entertainment
The girls of "The Sisterhood of the Traveling Pants" films aren't just pals on the silver screen -- they're best friends in real life, too.
Cue the "awws."
Amber Tamblyn, who played Tibby in the series, recently appeared on VH1's "Morning Buzz Live" to chat with host Nick Lachey.
During a game called Fact Check, Tamblyn confirmed that she -- along with "Sisterhood" costars America Ferrera and Alexis Bledel -- are all godmothers to Blake Lively and Ryan Reynolds' daughter, James.
Lively, of course, played Bridget in the series.
It's pretty touching that the women who starred in a book-turned-movie series about friendship actually became -- and stayed -- best friends in real life.
If only the magic pants existed in real life, too.
Citations: You Will Never Guess Who Blake Livelys Daughters Godmothers Are (Cosmopolitan)