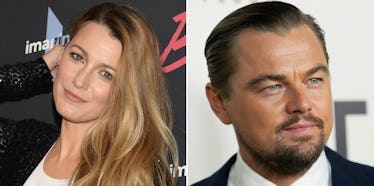 Blake Lively Sent Leo DiCaprio Pics Of Dolls When They Were Dating & We Have Questions
Andrew Toth/Tibrina Hobson/Getty Images
A new interview with the producers and cast of Gossip Girl has revealed some new details about Blake Lively and Leonardo DiCaprio's short, but high-profile relationship. Though they only dated for five months back in 2011, right in the prime of the Gossip Girl days, everyone was talking about their relationship while it was happening. And that's no surprise, seeing as Gossip Girl shot Blake Lively into superstardom and Leonardo DiCaprio was, well, Leonardo DiCaprio. But now we've gotten a small look into their relationship from Lively's co-workers who witnessed a lot of it, and guys, this might be the funniest thing you'll read all week. Apparently, while they were filming Gossip Girl, Lively would send pictures of a doll to DiCaprio, essentially documenting her life to him through a Flat Stanley.
The show's executive producer, Joshua Safran, told Vanity Fair,
We learned a lot from Blake. When I think about shooting the L.A. episodes, Blake was dating [DiCaprio] at the time, and she had this thing where she had a doll that she took photos of that she sent to Leo. Blake was way ahead of the curve. It was pre-Instagram. She was documenting her life in photographs in a way that people were not yet doing.
Did Blake Lively invent Instagram??? It sounds like it. I hope she patented that. Anyway, Safran unfortunately doesn't reveal what kind of doll this was, but it clearly meant something to Lively and DiCaprio. This is, like, kind of weird, right? But also kind of a sweet thing to do with your bae? I don't know, I'm single as hell. Could people in relationships tell me if this is normal? Twitter is losing it over this news.
Was it a Barbie that looked like Serena van der Woodsen? One of those porcelain dolls that lots of people think are pretty but they fill my nightmares? Was it a Leo DiCaprio action figure? Do those even exist? Who knows! Whatever the truth is, I will pay someone to find it out for me.
The rest of the Vanity Fair interview with the Gossip Girl team reveals how much Penn Badgley (Dan Humphrey) hated his life while filming, and how chill Leighton Meester (Blair Waldorf) was about being casted. Where Lively knew that if she took the role, she'd never have privacy again, Meester told the outlet,
I think it was just the normal, typical pilot season audition for me. . . . I auditioned and then I tested once and then we did a screen test with everybody. And then, that was it . . . I dunno. I got it.
I'm living for this. Lively said she knew Gossip Girl would change her life forever while reading the script. She said,
I'm actually a very shy person and the idea of losing my anonymity was one that was scary to me. I remember saying when I read this script, 'Whoever does this will not be able to walk out of their house ever again and be the same as before they started this.' You could tell it was a cultural phenomenon. That was both exciting and thrilling, but also very scary.
Playing Serena van der Woodsen may have ruined Blake Lively's private life, but learning Dan Humphrey was Gossip Girl ruined mine, so. Xoxo, Gossip Girl.