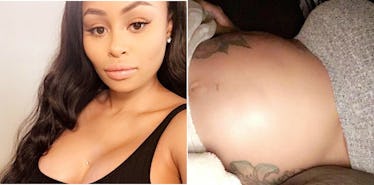 Blac Chya Gave Us A Major Clue About When She's Going To Have Her Baby
Instagram
Man, it feels like Blac Chyna's been pregnant for years at this point.
Every day I check out Snapchat and see videos of her rubbing her baby belly with coconut oil and shit.
She looks like she's about to pop any day now, so I hope Rob Kardashian is ready for fatherhood.
If you checked out Blac Chyna's Snapchat story from last night, you'll know she gave a HUGE clue about when she's due, so that's exciting.
The reality star added a photo of her bare belly (what a surprise) and captioned the photo, "Can't wait to meet my baby girl #Scorpio."
OHHHHH MAN, OH MAN.
Blac Chyna and Rob Kardashian are having a Scorpio baby!
That means Chyna's due date falls somewhere between October 23 and November 21. Haha, get it? "Falls." 'Cause they're having a baby in the fall.
Someone date me plz.
Chyna also posted the picture on Instagram, so several Scorpio fans shared their excitement about the big news.
I'm an Aquarius, so I can't relate, but like...congrats I guess?!
Hopefully Blac Chyna giving birth will air on "Rob & Chyna" at the end of the month (minus the gory details, of course) because I'd love to see them in the hospital room.
If you missed last night's episode because you were watching the Emmys, then be sure to catch up before next week.
It was a pretty juicy hour of television, if you ask me.
Blac Chyna and Rob, I can't wait to finally meet your little Scorpio princess!
(And by "meet" I mean stalk on Instagram. OK, you get it, shut up.)