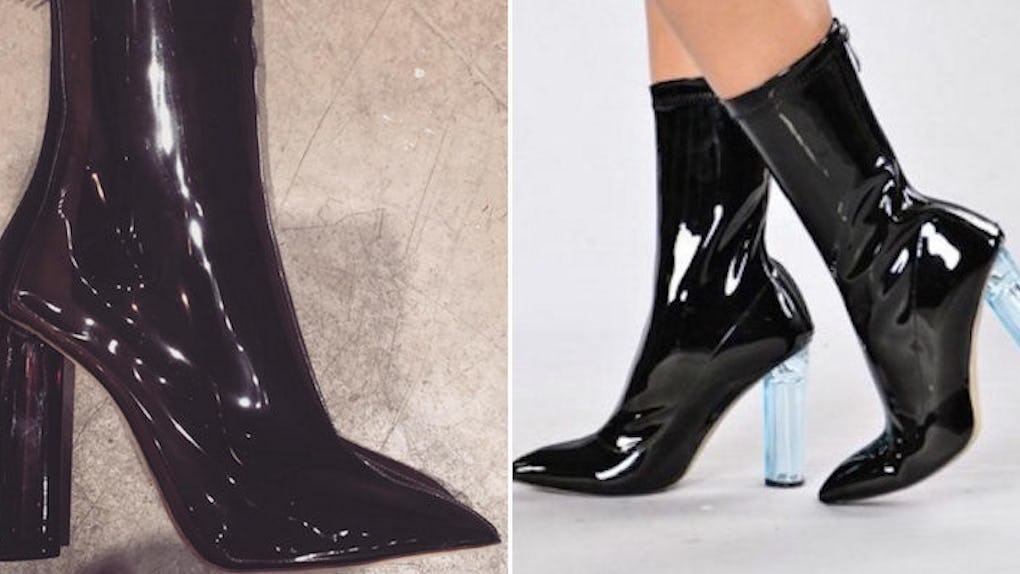 Instagram / Fashion Nova
Blac Chyna Promotes $39 Boots That Look Identical To Kanye West's Collection
Sure, Blac Chyna COULD promote her almost brother-in-law's super expensive boots... or she could promote the cheap knockoffs instead.
Which is, allegedly, exactly what she did.
According to a screenshot taken by TMZ, the 28-year-old newly crowned reality queen recently promoted a pair of boots by Fashion Nova.
So far, this is business as usual for Chyna, who has long had a deal with Fashion Nova and frequently promotes its stuff.
However, it looks like that Instagram has since been deleted — which might be because these boots look nearly identical to Kanye West's boots from Yeezy Season 3.
If you need more convincing, take a look at the Fashion Nova pair in black.
Annnnnnd just for fun, here's a look at the Yeezys and knockoffs side by side.
Here's the thing: The Yeezys cost upwards of $1,000, according to TMZ. The Fashion Nova version, on the other hand, only cost $39 as you can see on the website.
After TMZ reached out to Fashion Nova about the similarities, the company released the following statement,
We look to the past, present and future for fashion trends... at Fashion Nova we have great admiration for Kanye West as he is clearly a trend setter for both fashion and music.
Look, Blac Chyna is a woman of the people. She gives the people what they want, and what they want is cute, reasonably priced shoes.
Family first is fine, but if your shoes cost more than my laptop, you're tripping.
Citations: BLAC CHYNA I PUSH KANYE FOOTWEAR ... Only Way Cheaper (TMZ)