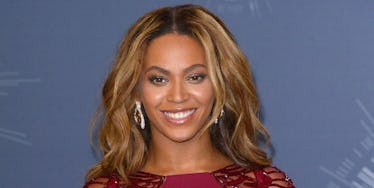 Beyoncé May Be Performing At The VMAs And The Beyhive Is Losing It
REX/Shutterstock
SHUT THE FRONT DOOR.
There's a little rumor spreading on Twitter about MTV's Video Music Awards, and I'd like to fill you in.
OK, IT'S NOT A LITTLE RUMOR. IT'S A BIG RUMOR.
BEYONCÉ MAY BE PERFORMING AT THE VMAS.
*Falls off chair*
*Takes last breath*
*Goes unconscious*
*Comes back to life because Lemonade is playing*
Don't get too excited yet. Nothing is confirmed, we just have some tweets by a member of the Beyhive to give us hope.
According to the Twitter account @TheBeyHiveTeam, Beyoncé will be performing and may do a Lemonade tribute.
EXCLUSIVE: Just IN! From a rock solid source at MTV, we can confirm Beyoncé is attending and performing at the 2016 MTV VMAs!!! — THE BEYHIVÉ (@TheBeyHiveTeam) August 18, 2016
When fans saw the news, Twitter went wild.
Some people are staying realistic, though. They know MTV has not confirmed it, so they aren't getting their hopes up.
@TheBeyHiveTeam still not believing until MTV or Bey confirms it it would be too much... Rih and Bey..damn they crazy — Maria (@Maria_RoNavy) August 18, 2016
SHOW US THE RECEIPTS!!!
MTV did ~hint~ something big may be happening with Queen Bey because they released a hype video of her "MTV Firsts."
DID THAT PUMP YOU UP OR WHAT?
I'm not sure what's gonna happen on August 28, but if Rihanna AND Beyoncé  hit that stage, I'mma have a heart attack.
Citations: Beyonce VMAs Performance Rumor (ELLE)