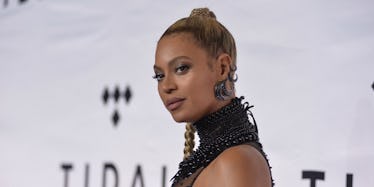 Beyoncé May Have Revealed The Sex Of Her Twins With This Small Hint
REX/Shutterstock
If there is one person who keeps me on my toes, it is Beyoncé.
She's always sneakily announcing things -- like her first pregnancy when she subtly rubbed her stomach at the VMAs or when she dropped a self-titled visual album out of nowhere and literally got us all SHOOK AF.
So, yeah, I'm onto you, Beyoncé.
If she didn't want us to analyze every little thing she does, then maybe she should stop surprising us like this! We HATE surprises, Beyoncé!
While Queen B has announced she's expecting twins with her husband Jay Z, she hasn't yet revealed what sex her little packages of joy are going to be. Thankfully, the Beyhive is on it.
The singer posted a number of baby bump photos to her website, but if you look past the $4,900 Gucci bag and her black thigh-high boots, you'll notice one accessory outshines them all.
HMM.... WHERE HAVE I SEEN THOSE EARRINGS BEFORE?! OH YEAH, I REMEMBER...
THEY'RE THE SAME EARRINGS BEYONCÉ WORE IN HER "IF I WERE A BOY" MUSIC VIDEO IN 2008.
So, unless Bey is living like it's 2008 (and why would she? That was a terrible year. Does no one remember the global economic crisis of '08?!), then I think it's safe to assume Beyoncé is preggers with twin boys.
Of course, this may just be hint PART ONE. Beyoncé likes to do things in parts, like her three hints for her "Lemonade" album and her two hints when it came to announcing her twins.
Some fans theorize the pink bow on her bra and the powder blue panty bottoms could indicate Beyoncé is, in fact, pregnant with both a boy and a girl.
There is no room for coincidences in this life, my friends. Everything Queen B does is a hint to inner peace and immortality.
Citations: Did Beyoncé Subtly Reveal the Sex of Her Twins? A Fan Theory Explained (People)