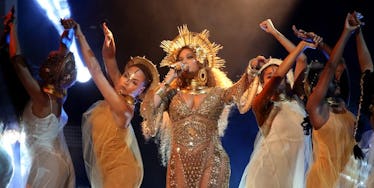 This Beautiful Detail On Beyoncé's Grammys Dress Has A Deeper Meaning
REUTERS
Beyoncé's Grammy dress deserved its own Grammy award.
Listen, I'm not gonna fault you for not watching the Grammys.  They tend to be long, overproduced and -- with the exception of a few moments -- they're pretty boring compared to most other award shows during awards season.
So, no big deal if you didn't catch the Grammys on February 12.
If you skipped it this year, though, you should probably be aware you missed one of the most intense costume choices of all time.
Beyoncé somehow out-Beyoncé'd herself in this golden art installation.
When the Messiah comes, I guarantee you the first thing he says is,
Eff, listen. I know I'm wearing the same thing Beyoncé wore to the Grammys, but I legit JUST saw a pic of it when I got to Earth from the kingdom of the Lord of Lords and didn't have time to change. Sorry! Also, WATCH ME BRING BACK ALL THESE DEAD PEOPLE!!!!!!
The dress actually had a deeper meaning, and you probably missed it.
BEYONCÉ WORE A DRESS WITH HER FACE ON THE STOMACH. THAT IS NEXT LEVEL SLAYDOM.
There is literally only one other person who can pull off wearing their face on their bodies as a fashion statement.
Beyoncé isn't about that haughty lifestyle, though, which means there is only one explanation for all of this...
BEYONCÉ IS A GOD.
A READING FROM THE BOOK OF 'YONCÉ:
Almighty Beyoncé, the fountain of all wisdom, you know our necessities before we ask and our ignorance in asking...
Have compassion on our weakness, and mercifully give us those things, which for our unworthiness, we dare not and for our blindness we cannot ask...
...through the worthiness of your daughter, Blue Ivy, our Lord, who lives and reigns with you and the Holy Spirit, one Beyoncé, now and forever. Amen.
Beyoncé be with you.
Citations: Beyoncé's Grammys Dress Had An Interesting Detail You Probably Missed (Buzzfeed)