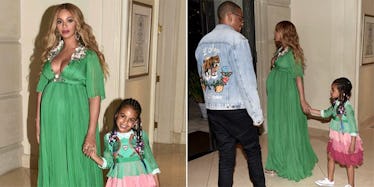 Beyoncé Put Blue Ivy In A Dress That's Worth More Than Your Student Loan Debt
There was a ton of green behind Blue's dress at the "Beauty and the Beast" premiere last week.
I'm just finding out a 5-year-old wore what could be my rent for the next three years to a movie premiere, and I'm totally dealing with that fact just fine, thanks for asking!
Blue Ivy Carter sat in a dark movie theater and watched Emma Watson sing for two hours while probably dropping popcorn on a dress valued at... get this... $26,000!
In case you're curious, that's about $10,000 more than the yearly salary of a minimum wage worker, and exactly enough for me to start doubling my efforts to get adopted by Beyoncé.
Look at that grin — she knows she's wearing a dress that's probably worth more than my life. Beyoncé uploaded the photos from the premiere to her website on Monday.
The dress in question is a modified version of a silk-chiffon gown that Gucci featured in its Fall 2016 collection, according to E! Online.
The Net-a-Porter listing for the full-sized gown sets its price at $26,000, and describes the dress as a ruffle-tiered garment that fades from jade to plum.
The bulk of the expensiveness most likely comes from the bejeweled bodice up top, which features intricately embroidered birds and snakes along with a bunch of crystals.
Here Blue is acting like she's just a fun-loving, normal kid who isn't wearing three times my savings account to the movies.
As for Blue's mom and dad, they were dressed to the nines as well.
Bey was draped in an elegant, empire-waist green gown, showing off her famous baby bump. And Jay Z may look like he's keeping it casual in sneakers and a jean jacket, but that embroidered denim jacket is actually a Gucci original worth $5,000.
You just know that when those twins come, they're going to be strutting around in diamond-encrusted diapers. UGH, why does Beyoncé keep returning my adoption papers unsigned!?
Citations: Beyoncé and Blue Ivy Carter Wear Matching Outfits to the Beauty and the Beast Premiere (E! Online)