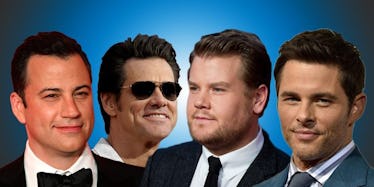 We Picked The Best 'James' In Hollywood With This March Madness-Style Bracket
Elite Daily
Every year, in the great month of March, I spend 30 or so days feeling very left out of a number of basketball-related conversations.
Last year, I tried to get in on the action by participating in the Elite Daily March Madness pool, which really did not work out for me. I lost $20 pretty much immediately due to my extreme lack of basketball knowledge.
So, this year, I decided to create my own bracket to help me address a question that has plagued for quite some time.
There are an unusually large number of famous men named "James," and therefore, I must create an arbitrary competition for them in my mind. So the question is: Who is the best "James" in Hollywood?
To answer this important query, I turned to an elite (pun intended) team of experts. People who know the Hollywood James inside and out, or at least, definitely feel like they've heard of that guy, somewhere. I'm talking, of course, about the Elite Daily Entertainment team.
So, with the help of my team, Google Forms and our talented photo editor, I created the ultimate James vs. James bracket. After four rounds of voting, I finally had my answer.
But before we get there, let me quickly go over some housekeeping.
First, I went by HOLLYWOOD only. Meaning actors. That's why you don't see James Harden or James Blunt on here.
Second, yes, I included celebs who go by "Jim" or "Jimmy." If they were born a "James," they count.
Third, there are undoubtedly actors named "James" that were left off, and you will undoubtedly tell me all about it in the comments. I needed there to only be 16 to make the bracket work, OK?
Finally, if you're trying to figure out the criteria for what constitutes "best," please don't. This whole thing will work a lot better if you don't give it too much thought.
OK. Let's begin.
ROUND ONE: The fame of the James.
So, the 16 Jim, Jimmy and James have been selected and paired roughly by equivalence of genre, era and fame. (I said roughly!)
Round one had Jimmy Kimmel beating out Jimmy Fallon, James Gandolfini over James Earl Jones, Jim Carrey over Jim Parsons, James Cameron over Jim Henson (much to my dismay, trust me), James Corden over Jim Belushi, James Franco over James McAvoy, James Dean over Jimmy Stewart and James Marsden over James Van Der Beek.
(If you don't recognize some of those James, I suggest Google.)
ROUND TWO: Hall of James.
Things started getting contentious in round two. Accusations were made, words were had. Bribes were attempted.
But we narrowed it down to our four finalists: Kimmel, Carrey, Corden and Marsden.
ROUND THREE: Nothing was ever the James.
Surprisingly, the two finalists for the coveted "Best James" title were two late-night hosts: Jimmy Kimmel and James Corden. Or maybe it's not so surprising — their entire job is to be likable and personable to pretty much everyone.
(I would just like to note that I cannot claim credit for the last two excellent James puns. That glory belongs to Entertainment Writer Dylan Kickham.)
ROUND FOUR: The Ultimate James.
Look, you may not agree, I may not agree, but the 12 people who voted in my Google Form polls have spoken: James "Jimmy" Kimmel is the best "James" in Hollywood.
That's democracy for ya!