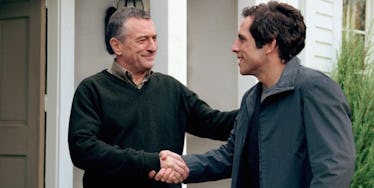 Ben Stiller Reveals First Move After Cancer Diagnosis: I Called Robert De Niro
Dreamworks
For the past two years, Ben Stiller has been fighting prostate cancer.
The 50-year-old comedy icon revealed details of his diagnosis during a visit to The Howard Stern Show on Tuesday morning.
During the broadcast, Stiller spoke about the diagnosis, saying,
It came out of the blue for me. I had no idea. At first, I didn't know what was gonna happen. I was scared. It just stopped everything in your life because you can't plan for a movie because you don't know what's gonna happen.
Two years later, Stiller is now ready to speak about the terrifying journey he and his family have gone through.
If nothing else, he hopes his story will raise some awareness about prostate cancer and how to get it diagnosed with a simple test that measures prostate-specific antigens (PSA).
He told Stern,
I wanted to talk about it because of the [PSA] test ... I feel like the test saved my life.
Going on to explain,
It's the second most deadly cancer, but it's about one of the most curable.
The diagnosis was obviously a shock to Stiller, who has two kids with his wife, fellow "Dodgeball" star Christine Taylor.
He handled the news as anyone in his situation would: by bulking up on research about the uphill battle he faced and calling close friend Robert De Niro -- who co-starred in "Meet The Parents," "Meet The Fockers" and "Little Fockers" with Stiller and beat prostate cancer a few years back.
He told Stern,
The first thing I did when I got diagnosed was get on the internet to try to learn. I saw De Niro had had it. I called him right away.
Ben clearly has an amazing support system behind him. He went on to tell Stern,
Afterwards, it just gives you an appreciation for life. Every six months I'm taking my PSA test to make sure I'm clear.
Sending positive vibes to you and your family, Blue Steel!
Citations: Ben Stiller Reveals He Was Diagnosed With Prostate Cancer (US)