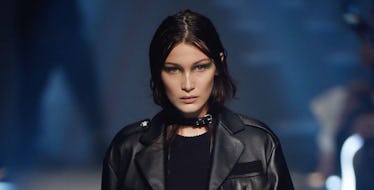 Bella Hadid Posed In Sexy See-Through Top For Her Latest Photo Shoot
REX/Shutterstock
If I had a body like Bella Hadid's, I'd walk around butt naked every day.
I'm serious, I'd probably be fired on the first day of work because I'd walk in with my tatas out.
HEY BOSS, SAY HELLO TO THE GIRLS! OH, THERE'S A DRESS CODE? WHAT DO YOU MEAN?
Luckily, I look like a man-eating troll so we don't have this problem. Crisis averted! Thank the lord!
But back to Bella Hadid. The girl is gorgeous. I'm convinced she's half alien or some shit because how the hell else could her face be so perfect?
LOOK AT THAT FACE.
I can't go two days without my eyebrows growing into one. I'm serious, I carry tweezers in my purse.
BUT ENOUGH ABOUT ME. Bella Hadid posed for a beautiful photo shoot modeling the season's best haute couture looks for W's October Royals issue.
In several of the pics she looks like a topless fairy princess. Hellz yeah, she ditched the bra and let her girls fly free.
Check out all the pics below.
There was "check out my nippies in this sexy see-through top" Bella.
There was "bow down to me you peasants cause I'm the Queen of Hearts" Bella.
There was "it's middle school so I must be emo" Bella.
There was "grabbin' mah goodies all day e'ry day" Bella.
There was "I got some new conditioner and my hair is LUSCIOUS" Bella.
There was "I look like a fluffy blue poodle but it's hot" Bella.
There was "I look like a lampshade but it's sexiiii" Bella.
There was "I look like a creepy paper doll but IT'S KINKY" Bella.
And last but not least, there was "LEAVE ME ALONE I'M WATCHING NETFLIX IN A WEDDING DRESS CAUSE IDGAF" Bella.
My personal favorite.
Bella Hadid, thank you for blessing us with ANOTHER gorgeous photo shoot. Now BRB, gonna go wax my eyebrows.