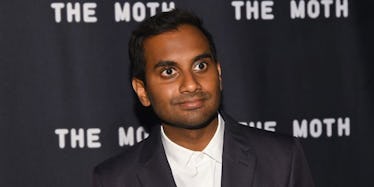 Aziz Ansari Is Single And Looking For A Girl To "Do Nothing With"
Ben Gabbe/Getty Images
Aziz Ansari is a man who is clearly interested in romance. Not only is the Netflix series he writes and stars in quite romantic, but he even wrote a whole book called Modern Romance about dating in the digital generation. Yet despite his fascination with relationships, the comedian/actor/writer himself is currently single. So yes, if you came here with that one question in mind — is Aziz Ansari single? — the answer is a simple "Yes." But not only is Aziz Ansari single, he's also looking for something special in his next partner, he revealed last month to People.
In an interview with People, the 34-year-old Master of None creator and star confessed that while he was very satisfied with his professional life, he was slightly less happy with his personal life. Ansari said,
I'm very happy. That's another reason I don't really care about work stuff … I'd rather figure out the other things in my life that I don't feel as good about. I don't feel as good about my personal life as I do my professional life.
He said that if there was one way he could adjust his current life, he would "probably adjust my personal life to be in a loving relationship and I'd probably just adjust it so I got to spend more time with my parents."
When asked what kind of person he was looking to start that desired loving relationship with, Ansari responded,
Someone I would be thrilled to do nothing with who would be as equally thrilled to do nothing with me.
Yep, doing nothing sounds pretty much like an ideal relationship to me! It's no wonder Ansari has his sights set on some rest and relaxation time with his hypothetical boo, considering how busy the entertainer has been as of late. The Netflix comedy-drama he created with friend Alan Yang was nominated for two awards at the 2017 Emmy Awards this year, bringing the show to a grand total of six Emmy nominations since its debut in 2016.
This year Aziz Ansari was nominated for Outstanding Lead Actor in a Comedy Series and the show itself was nominated for Outstanding Comedy Series. Last year both Ansari and Yang won an Emmy for Outstanding Writing for a Comedy Series and were nominated for Outstanding Comedy Series, Outstanding Lead Actor, and Outstanding Directing.
Yet despite the show's critical success, Ansari has said he's not currently in a hurry to film more episodes. Though he does expect to eventually write a Season 3, the showrunner said in an interview with The Hollywood Reporter he's taking a break for now. Ansari said,
I'd rather we not end it here. It's just not about buying into the machine of cranking stuff out because you have to, or making stuff out obligation and for the wrong reasons.
He went on to say,
It's fun not to have anything to do. I remember reading somewhere that a movie was trying to get Jack Nicholson to do something and Jack said no and said, 'I sat under a tree and read a book.' I thought, 'That sounds amazing, I wish I could do that — oh, I can!' There's no reason I can't sit under a tree and read a book. I don't want people to think that I'm out living the good life, it's not about that. I don't have to make something because I have to, I can make something when I want to and when I feel inspired.
Not to mention, maybe he can use that time off for his dating life! Catch Aziz Ansari at the 2017 Emmy Awards at 8 p.m. ET, Sunday, Sept. 17 on CBS.