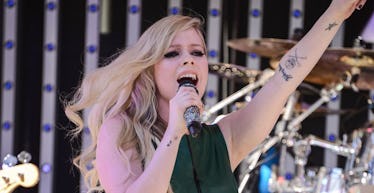 Avril Lavigne Announced A New Album Is Coming, So It's Officially 2004 Again
REX/Shutterstock
Grab your skateboards and pink hair extensions because Avril Lavigne is making new music!
The 32-year-old "Sk8er Boi" singer is planning a giant comeback, so it's officially 2004 again.
On Christmas Eve, Avril Lavigne posted a video of her holding a gift under a tree for her fans.
She captioned the video,
Saved the best present for last! Can't wait to share it with you guys!!
Oooh, how suspenseful.
The next day, Avril Lavigne shared the exciting news with her fans on social media.
She added a multi-colored photo of herself sitting in front of a piano. In her caption, she first opened up about her struggle with Lyme disease over the past two years.
She wrote,
Hi Everyone!! I wanted to first thank my fans for your patience & support during my time away throughout my battle with Lyme Disease over the past 2 years. It hasn't just been a hard battle but it's also been enlightening and will reflect in my new music, artistry, life, and personally. I will always continue to make it a priority to fight and raise awareness about Lyme Disease with the Avril Lavigne foundation.
Then, Avril Lavigne announced she will be releasing a new album in 2017. She said,
I'm really happy to announce that I am now working on new music and I will be releasing a new album in 2017. I can't wait to open up and share my heart with you! I'm excited for you guys to hear the new songs. It's going to be an amazing 2017!
ARE YOU READING WHAT I'M READING? Dreams really do come true.
Avril Lavigne's music is what got me through middle school. "Complicated" perfectly described my two-week relationship with a boy in sixth grade.
Avril, you're my hero. I can't wait for your new music to make me an emotional wreck all over again.
Citations: Avril Lavigne New Music In 2017 (DailyMail.com)