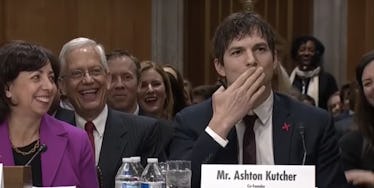 Ashton Kutcher Blew A Kiss To John McCain And Washington Got So Much Better
YouTube
John McCain and Ashton Kutcher are totally boinking.
I have zero info to confirm this, but the sexual tension between these two industry leaders -- McCain for politics and Kutcher for the Nikon Coolpix -- is absolutely killing me.
This whole "Will they? Won't they?" dance they have going is making me LIVID.
If you have no idea what I'm talking about, feel free to light some candles, play a little Sade and watch this clip of the two of them laying game down on each other.
You could cut the tension in the room with a government-approved butter knife.
The public tryst happened during a Senate foreign relations hearing where Kutcher testified against modern slavery and human trafficking.
During the meeting, McCain joked,
I also want to thank Elisa and Ashton. Ashton, you were better looking in the movies.
Ashton's response?
While at the hearing, Kutcher gave a fiery speech about his work against human trafficking and his experiences saving children from sexual abuse.
Kutcher is the co-founder of an organization called Thorn: Digital Defenders of Children, which he established with his ex-wife Demi Moore. The purpose of the group is to aid in the fight against adolescent sexual trafficking.
During the speech, Kutcher told Senate members,
The right to pursue happiness, for so many, is stripped away. It's raped. It's abused. It's taken by force, fraud or coercion. It is sold for the momentary happiness of another.
You can watch the full statement here:
During the talk, Kutcher spoke about his experiences working with the FBI and meeting victims from across the world.
At one point, Kutcher broke into tears recalling a time he saw a video of a Cambodian child the same age as his daughter being raped by an American tourist.
Kutcher's speech in Washington comes a week before Shine a Light on Slavery Day.
Citations: John McCain gets Punk'd! Ashton Kutcher blows the senator a KISS during Foreign Relations hearing as they give Obama and Biden a run for their bromance money (Daily Mail)