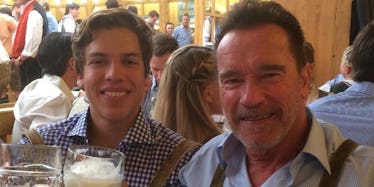 Arnold Schwarzenegger Proved He's A Boss Dad At Oktoberfest For Son's Birthday
Instagram
What did you do this weekend? Oh, you watched Netflix. That's cool. Well, Arnold Schwarzenegger had flagons of beer with his son Joseph Baena at Oktoberfest.
HOW DO YOU FEEL ABOUT YOUR LIFE NOW, PUNY HUMAN?
On Sunday, actor, ex-Govenor and Terminator Arnold Schwarzenegger posted an Instagram photo of his son who had just turned 19 years of age.
In addition to them performing a cheers with two enormous glasses of beer in the most Germanic, dramatic way, the 69-year-old captioned the pic,
Happy birthday, Joseph. Great student, great athlete. I'm proud of you and I love you!
Seriously, this guy is the sweetest WHEN HE'S NOT TRYING TO KILL JOHN CONNOR.
Arnold, who had his son Joseph with his former housekeeper Mildred Baena, told Howard Stern,
He's terrific and he totally understands the situation. So, it all has worked out… It's a very tough situation for him. It's a very tough situation for my kids, very tough situation for my family. It was tough for everybody. But it has happened and now we have to figure it out, right?
I hope all the media limelight in the past hasn't affected Joseph too negatively.
Clearly, Detective John Kimble is having the time of his life at Oktoberfest, and we should all feel jealous we're not there pounding back some brews with him (while quoting "Kindergarten Cop").
Of course, Arnold eventually had to evade authorities in a thrilling, high-speed chase!
JK, he was actually stopped by the po' for riding his bike on a train platform in Munich. (And it wasn't his motorcycle from "T2.")
If someone was yelling at me in German, I'd probably just cry.
Heck, if someone was singing to me in German, I'd probably just cry.
Such a coarse, scary language, am I right? Thankfully, Schwarzenegger is fluent in German.
However, according to the Evening Standard, Arnold was allowed to continue after a brief chat with a police officer, and judging by that police officer's Twitter account, it seems like the discussion went well.
Citations: Arnold Schwarzenegger Celebrates His Look-Alike Son's 19th Birthday (Extra TV), Police take selfie after stopping Arnold Schwarzenegger riding bike in German train station (Evening Standard)