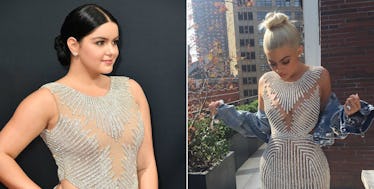 Ariel Winter Completely Stole Kylie Jenner's See-Through Look At The Emmys
REX/Shutterstock/Instagram
Ariel Winter showed up to the Emmys looking absolutely stunning.
She rocked a gorgeous bedazzled see-through dress with matching silver earrings and heels.
DAMN GIRL, you lookin' fine.
.@arielwinter1, of @ModernFam, is fierce on the #Emmys red carpet! pic.twitter.com/GDnQumnDFi — Television Academy (@TelevisionAcad) September 18, 2016
Ariel made her way down the red carpet and pretty much burned the place down. She looked hotter than fire, OW OWWW.
As beautiful as the "Modern Family" star looked, there's probably one thing you didn't notice about her outfit choice...
Ariel actually copied the look Kylie Jenner wore during New York Fashion Week. Ohhhh shit.
As Twitter points out, Kylie only wore the dress four days ago. Uh oh, do I smell drama?
Kylie Jenner liiiiiiiiiiiiterally wore Ariel Winter's dress 4 days ago. What's going on here? #Emmys — Katie Louise Smith (@_katesss) September 18, 2016
Ariel's dress is the longer version of Kylie's, but besides that, it's basically identical.
Twitter is roasting Ariel for stealing Kylie Jenner's style. Sorry girl, but you got busted!
Is Ariel Winter wearing the same dress Kylie Jenner wore last week/ #Emmys — LyDiego (@LyDiego) September 18, 2016
Better luck next time, I guess?