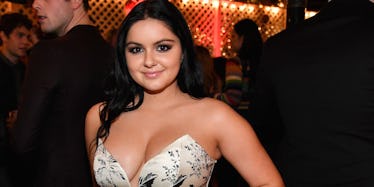 Ariel Winter Credits Sofia Vergara For Helping Her Love Her Curves
REX/Shutterstock
Ariel Winter is a pro at fighting off trolls at this point, but it all started with a little pep talk from her TV step-grandma, Sofia Vergara.
Over the past few years, Ariel Winter has stepped out as one of Hollywood's biggest advocates for body issues in the industry and on social media.
Her various online platforms have become a soapbox against body-shamers and an empowering haven for "curvy" women in Hollywood and across the world.
She wasn't always this confident in herself, though. During an interview for the Dove's #SpeakBeautiful campaign, Winter talked about the difficulties of "maturing" during the early stages of "Modern Family."
According to Ariel,
As soon I went to my first or second Emmys, I was criticized; I was called fat; I was told I was dressing like a slut because I had larger breasts. It was harder for me to dress my body but still feel good in what I was wearing. The criticism was really harsh and really difficult.
Thankfully, she had some help from "Modern Family" castmate Sofia Vergara, who is easily the most confident person on the planet.
Winter told reporters,
Over the years, I had some really great role models. I worked with Sofía Vergara since I was a young girl and she helped me navigate being a curvy woman and being proud of it. My sister was always confident in herself, too, and I always aspired to be like that. Through a lot of amazing women, I definitely started to change my opinion.
Later in the interview she talked about how her life changed after opting for breast reduction surgery, saying,
I definitely had a lot of people who were bashing me for being affiliated with body-positivity campaigns, and telling me, "You got plastic surgery, so basically you don't promote body positivity and you don't love yourself." And that's completely untrue ... I felt it was necessary for me, and I made the choice entirely for me. I think it can definitely be empowering if you make a change for yourself that you always felt you wanted. If it raises your self-esteem and makes you more confident, then it's up to you and you should do whatever you want.
#TeamAriel
Citations: Ariel Winter How I Learned To Love My Body Silence The Haters (Refinery 29)