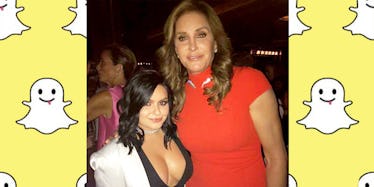 Ariel Winter Can't Handle Caitlyn Jenner Calling Her A 'Second Daughter'
Snapchat/Shutterstock
It looks like Ariel Winter might be one step closer to being a Kardashian...Well, not exactly, but her latest run-in with Caitlyn Jenner has to be worth something!
The 18-year-old "Modern Family" star attended Glamour's annual Women of the Year Awards in Los Angeles where she ran into 67-year-old Caitlyn Jenner who was nothing but nice to her.
The end result of their interaction?
A priceless Snapchat photo and a caption that almost makes you wish the Kardashian squad would just take Ariel Winter into the family just like they did with Blac Chyna.
Winter took to Snapchat to post a photo of her standing next to Caitlyn Jenner.
The caption reads,
Met Caitlyn and she called me her second daughter.
*Record scratch.*
Doesn't Caitlyn Jenner have THREE daughters and THREE stepdaughters?! How on Earth is Ariel Winter Caitlyn's "second daughter."
I don't know whether Caitlyn's throwing some major shade at her "favorite girls" or if she's just a REALLY big, undercover Ariel Winter fan.
The rest of the caption reads,
She was so sweet!
You think?! I mean, she basically gave Ariel a pass to at least change her Instagram name to Ariel Winter Kardashian for just a day... AT LEAST.
Here's the Snapchat photo of Caitlyn Jenner hanging out with her "second daughter" Ariel Winter at Glamour's annual Women of the Year Awards in Los Angeles.
Would you even be surprised if Ariel Winter became really good buddies with the Kardashians?! I wouldn't. She's gushed about her support for everyone's favorite reality TV show family time and time again.
Back in March, when Kim Kardashian was attacked for breaking the internet with a nude selfie, Ariel came to Kim's defense during an interview for Australia's "Kyle & Jackie O" radio show, according to US Weekly. Ariel said,
I think [Kim is] promoting body positivity. You know, young girls being able to express that they don't have a stick-thin body — they're curvy.
If anyone knows how important it is to promote body positivity in such a harshly opinionated world, it's Ariel Winter!
In an interview with Elite Daily's own Katie Corvino, Ariel Winter spoke out against the haters on social media and how important it is to love yourself regardless of what people say,
If I can't win, I'm going to work on a relationship with myself, which I also think is the most important thing we can teach young women and men today. And for me, now I post a photo and I don't care. If you're going to write something on it, whatever… If somebody doesn't like what I'm doing, you can unfollow me.
If there are two stars out there who continue to stress the significance of loving yourself and ignoring the criticism, those two stars would have to be Ariel and Caitlyn!
Citations: Ariel Winter: Caitlyn Jenner 'Called Me Her Second Daughter' (US Magazine)