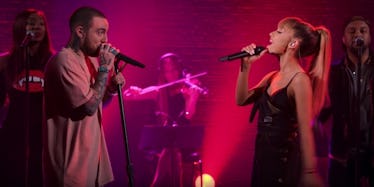 Ariana Grande And Mac Miller Had So Much Chemistry Performing Their Duet
YouTube
I just want someone to look at me the way Ariana Grande looks at Mac Miller.
During a concert special for Mac's new album The Divine Feminine, things got a little hot and heavy, so to speak.
After the rapper crooned away his verses during the first half of the song "My Favorite Part," it became clear that his favorite part of the song is getting a chance to sing with Ariana.
Just look at the way he was staring at Ariana. WHAT IS THIS... AN EHARMONY COMMERCIAL?
Make no mistake. These are the eyes of true love. Ladies, if you catch me starin' at you with these peepers then you're starin' at someone who's caught feelings bad.
No joke... Ariana stopped nailing her vocals because she was giggling. Basically, it's clear that Ariana wants to treat Mac like a donut and lick him.
Is Ariana doing one of her trademark riffs in the screenshot below or delivering her future marriage vows to Mac? I dare you to tell me it's one over the other.
Mac ended the duet with a giddy spin, failing to contain his brimming happiness. Duet? More like just do it, you two!
If you were hoping the two would eventually kiss, I'm sorry to say that the pair ended with just a handshake...
But wait, what's this I see here?
OK, so Ariana didn't actually hand Mac a love note, but it's worth noting these two love flirting with each other.
Mac even said at the very end,
Pleasure working with you. Good stuff.
Wow. Pleasure? Looks like their collaboration is more than just business.
Watch the video above and get ready to feel waves upon waves of sexual tension emanating from your laptop.
Can we ship these guys already?