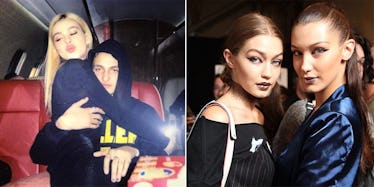 Anwar Hadid's New Actress GF Is All Of Us Fangirling Over Gigi And Bella
Thanks to the powers that be, you already know way too much about superstar sisters Gigi Hadid and Bella Hadid.
But did you know Gigi and Bella have a baby brother?
Anwar Hadid is just 17 years old, but he's already making quite the name for himself, and his love life is obviously a massive topic of discussion in the entertainment world.
According to reports, Anwar Hadid and his girlfriend, 22-year-old actress Nicola Peltz, recently went public with their relationship.
To caption the above photo, Hadid's girlfriend wrote,
1-22-17
Now, Hadid's gf is speaking out not only about Anwar, but about sisters Gigi and Bella.
Anwar Hadid's gf recently spoke to Women's Wear Daily about the new love of her life. She said,
We're hanging out. Honestly, he is an angel. He's such an amazing person.
These two.
Based on some of Peltz's other quotes, it seems Anwar Hadid's gf has already met the rest of the Hadid clan, including sisters Gigi and Bella.
Speaking about the superstar models, the 22-year-old actress said,
He comes from such an amazing family. Gigi and Bella are so, so sweet. I just love his family so much. They're feminine, strong girls. To have that around is amazing.
Wow! I mean, how much time could Nicola Peltz and Gigi and Bella Hadid have spent together?
Regardless, it definitely appears Anwar Hadid and Nicola Peltz are pretty hot and heavy at this point in their young relationship.
To caption the above photo, Peltz wrote,
taken by the queen @ellenvonunwerth
Peltz also talked about the value of friendships, particularly with women. She said,
It's really important to have really good girlfriends around and to have girl time and support. Boyfriends come and go until you meet the one, so it's super important to have that feminine energy around you.
Preach, Peltz.
It appears Anwar Hadid's gf isn't the only one posting cute pics, though. The 17-year-old posted a black-and-white picture of his own recently on Instagram.
These two are clearly in love.
Citations: Anwar Hadid's Girlfriend Nicola Peltz Talks His Sisters Gigi and Bella: 'I Just Love His Family So Much' (Entertainment Tonight)