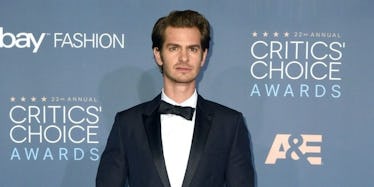 Andrew Garfield Looks Unrecognizable After Dropping 40 Pounds For New Role
REX/Shutterstock
Actor Andrew Garfield has come a long way since playing Eduardo Saverin in "The Social Network."
For that role, Garfield received Golden Globe and British Academy of Film and Television Arts nominations.
For his latest role, the 33-year-old plays a catholic missionary in the Martin Scorsese film "Silence." And after he dropped 40 pounds for the film, Garfield looks downright unrecognizable.
Speaking about his unbelievable weight loss, Andrew Garfield said,
It's not fun, but ultimately [it's] very, very satisfying and fulfilling. You learn a lot of information from emptying out.
I don't know, man. I usually learn a lot about myself after downing an entire plate of nachos and drinking a few beers.
To each his own, though, right?
As you might imagine, there's a huge mental aspect that goes into losing that much weight in such a short period of time.
In order to drop the weight and transform himself for the role in "Silence," Garfield reportedly went on a silent retreat in Wales.
Speaking about this mission and transformation, Garfield said,
It's a wonderful thing. Just after about three days everything shifts. Your central nervous system just kind of settles down and it becomes normal.
That sounds far more intense than anything I'd ever do, but I guess that's why I'll never be an award-winning actor. That, plus the fact you need talent for such things, but whatever.
Describing the retreat in detail, Andrew Garfield said,
You go into all these meditation and prayer rooms and the quiet in there is the loudest think you've ever fucking heard. It's crazy. You literally go in there and your ears start ringing. It's the purest silence that you could know. I've done a few of these things in the past on my personal time. I love all this spiritual exploration stuff. I'm fascinated by it.
Check out the full trailer for "Silence" and see just how unrecognizable Andrew Garfield truly appears.
This movie is going to be so lit.
Citations: Andrew Garfield drops 40 pounds for 'Silence' (Page Six)