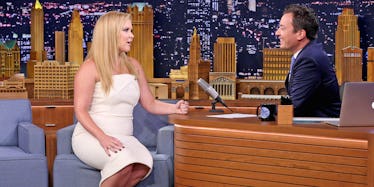 Amy Schumer Says She Hilariously Prank Sexted Katie Couric's Husband (Video)
Amy Schumer is an excellent talk show guest.
Case in point: Schumer went on Jimmy Fallon's show and told a hilarious story about a prank she pulled on Katie Couric and her husband.
Schumer was sitting at a table with Couric at the Glamour Women of the Year Awards, and at one point in the evening, Couric stood up from the table, leaving her phone behind.
That's when Schumer instinctively took Couric's phone and texted something dirty to her husband.
I won't ruin the surprise, but it is a story for the ages. Listen to Schumer tell the tale in the video above.